Durham's Best Date Ideas Got us Fallin' in Love
Estimated Read Time:
3 min
Roses are red. Violets are blue. Discover these ridiculously romantic spots in Durham for you and your boo.
Love is in the air, and couples are gearing up to celebrate their relationships. Whether you're preparing for Valentine's Day, brainstorming your next date night, meeting someone for the first time, or even thinking about where to propose, we are excited to celebrate love in all the right Bull City places.
To help set the mood and provide the perfect backdrop, we asked our Instagram followers to tell us their favorite date spots in Durham. Check out these dreamy ideas that will help spark the flame.
Get Outside
There's no better way to get to know someone than to take on an activity. Stroll through Durham Central Park with your loved one to enjoy a lovely green space perfect for recreation, enjoying nature, and people-watching right in the heart of downtown. There's always something fun to do, whether it's watching a dance class under the pavilion or enjoying the skaters' tricks at the skatepark.

Nothing sparks romance like a date in nature surrounded by the sweet-smelling flowers, chirping birds, and flowing fountains of Sarah P. Duke Gardens. Stroll through the garden and put your tu-lips together on one of the wooden benches before spreading out a picnic blanket on the lawn. We've seen weddings, proposals, and maternity shoots here, so we know your boo will be impressed.

Enjoy miles and miles of trails at Eno River State Park with your love by your side. Capture the experience with a pic at the hanging bridge and explore the gorgeous scenery for an adventurous date.
Take your boo on a walk through American Tobacco Campus. Cozy benches and local shops and restaurants dot the walkway with numerous secluded spots to snuggle up by the river. Planning on bringing a photographer with you to capture the moment? Be sure to read these guidelines first.

Meet for a Drink
Show off your impeccable taste by planning a date at one of Durham's celebrated cocktail or wine bars. Experience Durham Distillery's award-winning gin straight from the source by visiting Corpse Reviver, the distillery's adjacent sister bar. On the other side of downtown, local favorite Bar Virgile serves delicious craft and classic cocktails alongside elevated bar food in a cozy atmosphere. Just steps away from Durham Performing Arts Center, it's an easy stop for a bit of one-on-one time before or after a show.

Alley Twenty Six and Kingfisher, located just across the street from one another on East Chapel Hill St., are NC's only cocktail bars to be semifinalists for the prestigious James Beard Award for Outstanding Bar. A date at either (or both!) is sure to score you some points with your sweetie. Cozy up in a booth or at the bar and savor expertly made cocktails made using seasonal ingredients and homemade syrups and tonics.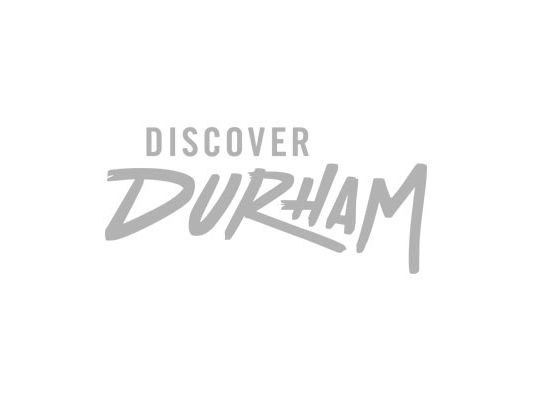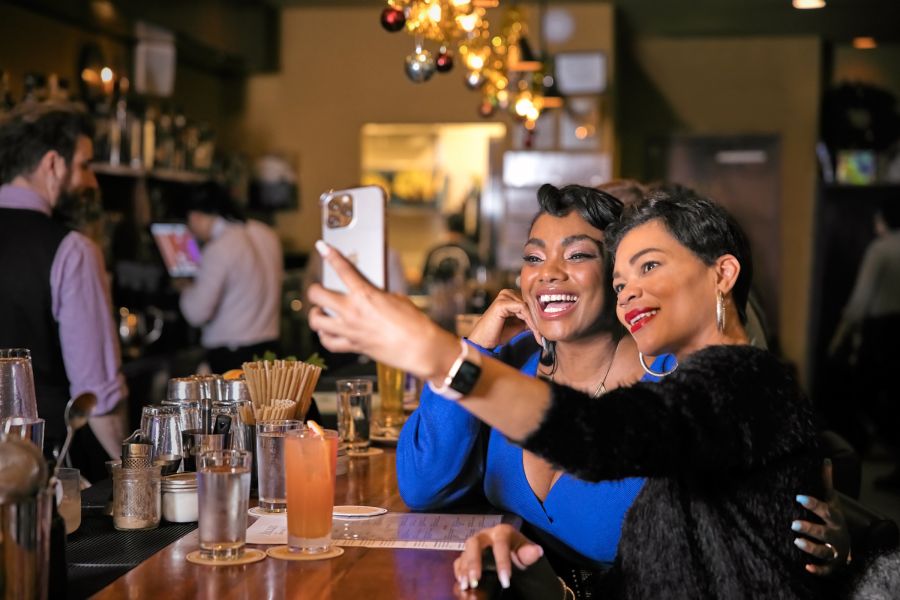 What's more romantic than splitting a nice bottle of wine? Splitting a nice bottle of wine under twinkling lights and snug blankets on Killer Queen's back patio. Don't worry, the setting is equally intimate inside where you and your date can share a plush loveseat and pretend you're the only ones in the room. The more casual Louella Wine Bar is the perfect spot for an afternoon or early evening date. Expand your knowledge with a Saturday afternoon wine tasting and stay for a glass and some people-watching on the Geer St.- adjacent outdoor seating. Pick up a bottle from the retail section to take home for your next date.
Downtown Durham's social district makes an outdoor date possible without foregoing an adult beverage. Loosen up the conversation with a to-go glass from Brunello Wine Bar and browse the plants and gifts at The Zen Succulent before posting up on a bench in CCB plaza to chat with your boo.
If sober sips are more your speed, you're in luck. Durham's world-class coffee shop scene offers plenty of options for a tasty beverage and a serene spot for sitting.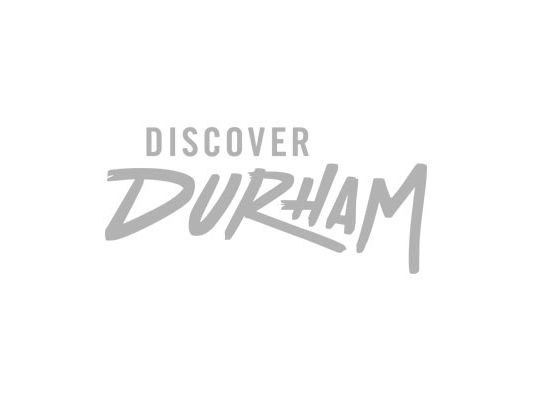 Get a Room with a (Rooftop) View
Wine and dine your sweetheart with drinks and spice and everything nice in a private igloo at Unscripted's roof deck (available during the colder months), and then stay the evening in a room awash in mid-century design with a view overlooking CCB Plaza.

Treat your special someone to an unforgettable night out at The Durham Hotel. Start with drinks and sunset views on The Roof at The Durham Hotel, followed by dinner in the corner booth in the glass-walled dining room and a stay in a stylishly comfortable room.
Spend a Night at the Museum
Kick off your romantic getaway in a spacious room at the 21c Museum Hotel. With stimulating museum exhibitions – open 24 hours! – along with an underground bank vault, intimate spa services, and a variety of menu options from the adjoining Counting House restaurant, it's likely the two of you won't want to leave.
Get Tickets to a Show
This one is for you long-term couples. Sitting next to each other while wordlessly watching a show may not be the best way to get to know someone but treating your loved one to a coveted ticket and accompanying them to see the show is a wonderful way to show care and attention to detail. If your sweetie is an avid Broadway fan, you're in luck. DPAC, consistently ranked among the top theaters in the country, gets all the best shows – Hamilton to Frozen. Nationally touring acts like Brandi Carlile and Trevor Noah make stops here as well. Trust and believe that your efforts will be appreciated.

For a more low-key show suiting more niche interests, check out The Carolina Theatre where you can score tickets to local and well-known bands and comedy shows or check out a film in the upstairs movie theater. Plan ahead for film events like retro double-features each Friday and August's OUTSouth Queer Film Festival.
Have a Low-Pressure First Date Meal
Let's be real, you never know how a first date is going to feel. Threading the needle of a thoughtful location that shows your personality and taste without overcommitting your time or budget is ideal. Pizza is the ultimate crowd-pleaser, so meet your date at Pompieri for a casual but tasty meal where you can sit outside by the fire pit for just the right ambiance.

Queeny's has established itself as a community hangout. With an affordable menu of tasty options that suit a variety of palettes, plus beer, wine, and cocktails, you can feel confident that your potential new boo will find something they like. And if the conversation lags, you can always join in on whatever the folks at the bar are discussing.

Cosmic Cantina is a piece of Durham history at this point. Reliably filling, delicious, and cheap, it's an excellent place for a quick bite or a late-night meal after a successful first-date conversation has lasted through a few drinks. And if it doesn't work out, you'll at least check an institution off your bucket list.
Keep Namu on your list as a perfect all-purpose date spot where you can meet for coffee, local beer, Korean street food and a beautiful, secluded back garden. Plan a quick first meeting with the option to linger by the water feature if things go well.

Score some street cred by introducing your date to hatch chili pimento cheese on a hotdog at Accordion Club. The unassuming hole-in-the-wall is a local hangout with a pool table and an outdoor patio, so you'll have plenty of things to do while you get to know each other.

Two words: street tacos. Lady Gold Tacos slings tacos al pastor, chicken tinga, birria, carnitas and chorizo in front of Remedy Room at Five Points, meaning it's within the social district. Grab a drink from a participating business, including Remedy Room and its upstairs neighbor Rubies, and hang out at a nearby outdoor table. Check their Instagram for hours and availability as they change according to weather and staffing.
Second Date Bites & Conversation
You've made it through the first date, and you're still interested, now it's time to try a more intimate setting. Perhaps a meal with paper menus and a server.

Share a few flavorful dishes along with your optimism about the future of your relationship at Hillandale neighborhood hangout Bleu Olive. Count on locally sourced ingredients, friendly service, and time to linger as you gaze into each other's eyes.

Feel things out with your prospective partner at Copa, where a beautiful atmosphere sets the tone, and you can choose between a meal at the expansive bar or at a more intimate table. Order a few Cuban tapas before you move to the next location or let the excitement of togetherness linger as you wait for a made-to-order paella to share.
You may recognize a theme here: small plates and tapas are approved second-date options for their versatility, the intimacy of sharing, and the sensory pleasure of bold flavors. Find all the above at Juju Asian Tapas + Bar, where you can also stick with the familiar taste of General Tso's if you're feeling less adventurous.

Who doesn't like a meal with a theme? Plan a light-hearted date to It's a Southern Thing and find out what the saying refers to. In this case, it's Chicken n Biscuits, pulled pork barbeque, sloppy joes, Country Hamburger Steak plates, and fried pickles. Just promise to always tell your date if they have sauce on their face.
Make it Official* at Swanky Spots
It's time to pull out all the stops and let your sweetie know how deep your feelings go. While these restaurants are comfortable enough for the foodies among us to aspire to "regular" status, they're also special enough to make anyone feel your love.

Celebrate your rare love at NanaSteak in a lively, warm, and welcoming atmosphere full of natural light. Enjoy drinks and appetizers at the bar or sit at a table and take in that superb downtown Durham view. Situated between DPAC and the Aloft Durham Downtown hotel, "Durham's best steakhouse" offers high-energy, upscale dining at its finest with an award-winning wine list.

Connect with your cutie at Plum Southern Kitchen & Bar, a relatively new restaurant serving classic Southern food for the modern palate. Choose between small plates, like biscuits served with pimento butter or deviled eggs topped with buttermilk fried shallots and smoked paprika, or pick your own entrée inspired by local producers' offerings. No matter your adventure, save room to share a slice of the weekly-changing Emma's Cake.
Vin Rouge had us at merlot. With a heated garden patio, beautiful scenery, and French cuisine, Vin Rouge will instantly transport you and your date to the French countryside — even if it's just for a few hours. If the macaroni gratin is good enough to impress the stars of Food Network, you know your boo will swoon.

A pillar of Durham's foodie scene, Mateo's served tapas, pintxos, paella, and porron in the heart of downtown Durham since 2012. With a Spanish heart and a Southern soul, you'll find treats like Cheerwine sangria, Pollo Frito (fried chicken stuffed with mahon cheese and serrano ham, pickles, and aioli), and Pan con Tomate complete with an option to add Duke's mayonnaise. Choose Mateo for a bit of adventure, with just the right amount of familiarity and comfort to win a date with your sweetie.

An all-star date can balance quality time with quality food. Indulge in fresh fish flown in from Japan, Korea, and other parts of the U.S. at M Sushi. The emphasis on fresh ingredients and maintaining traditional Japanese cuisine ensures you and your partner will be talking about the meal for ages. You can't go wrong with any of the a la carte options, but we promise any of the omakase options are worth the splurge. Choose the Grand Omakase to ensure that you both savor each flavor of the seven chef-picked courses as you linger in the sultry, tucked-away dining room.
Intimate atmosphere, check. Big-bulb string lights, check. Delicious food and drink? Yup, Littler has that, too. Bon Appetit magazine previously acknowledged that with the whole space lending a romantic glow, you may never want to leave. Chef Elizabeth Murray ensures a fresh, seasonal approach in the kitchen while pastry Chef Tanya Matta promises that no meal is complete without a colorful, whimsical dessert.
No matter which direction you choose, we are sure you'll fall in love with Durham as much as with each other. Here's to you, your love, and learning more about each other in the Bull City!
*Disclaimer: Communication is key. If you go on a date to one of these restaurants, congratulations and enjoy a beautiful meal! We don't know if you're official.