The Best Ways to Explore Downtown Durham's Social District
Estimated Read Time:
4 minutes
Bring friends and family to responsibly enjoy more of Durham
Posted By Kristin Bedinger on Nov 29, 2022
Downtown Durham's latest attraction is, well, all of it. Durham's social district, "The Bullpen," invites Durhamites and visitors to enjoy alcoholic beverages served to-go at participating businesses while walking outside and taking in all the district has to offer.
Imagine taking a Pepino for a walk as you wait for a table at Mateo Bar de Tapas, watching the kids play on the lawn at American Tobacco Campus with a to-go mimosa from Press Coffee, Crepes, & Cocktails, or shopping at Vert & Vogue with wine from Brunello Wine Bar in-hand. All this is possible in The Bullpen. Say goodbye to festival beer corrals and beverages abandoned at the table and hello to meeting friends at CCB plaza with a drink from The Slush and stopping by Fullsteam for a to-go beer mid-dog walk.
Before you head downtown, we've got the details on how to make the most of The Bullpen. For more specific information and a comprehensive list of participating businesses, visit the official Social District Guide from Downtown Durham, Inc. (DDI).
What is The Bullpen?
The Bullpen is located in the heart of downtown: a district where a walk in the sun with a drink, stopping into a shop along the way, is encouraged. Those 21+ who choose to purchase a beverage from an ABC-permitted establishment are allowed to take and carry it with them, so long as it's within certain hours and in specially marked cups. The Bullpen is not an excuse for public intoxication, but a more flexible way for you to enjoy local businesses and spend more time downtown.
When am I allowed to have an open container from a participating business?
The social district is active seven days a week from 11 a.m.-10 p.m. Time your brunch accordingly and order your bloody mary to-go starting at 11 a.m. After 10 p.m., sip your beverage in the same establishment you ordered from.
How can I tell which businesses are participating?
Look for the window clings. There are three types indicating whether you can order to-to drinks ("Order Here"), bring outside beverages inside ("Drinks Welcome"), or if you should not bring to-go beverages from other businesses inside ("Outside Drinks Not Permitted"). It's as simple as that to spot while strolling, but you can plan ahead by checking this updated list of businesses from DDI.
Remember, if a business isn't participating, there's a good reason! Tattoos and drinking don't mix, for example, and some retail businesses may want to avoid allowing open containers around fragile wares.
Don't miss Durham's Visitor Information Center where you're welcome to enjoy your drink while you check out maps and information to ensure you don't miss a thing during your visit.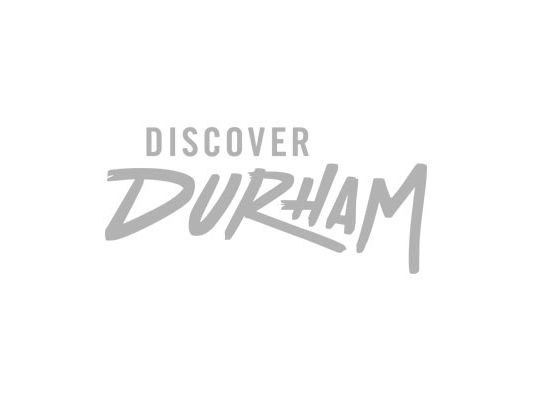 How will to-go drinks be served?
It's true, your Yeti could keep a Mezcalito Mangonada Margarita cold for hours, but drinks will need to be ordered to-go and kept in designated Bullpen-branded cups. The server or bartender will mark the cup with the date, time, and location where the drink was sold, so no drinks from convenience stores, bottle shops, or home may be poured into plastic cups. Kindly toss the disposable cup into a trash receptacle before you leave the district!
What's off-limits?
Drinks aren't allowed in government buildings, churches, and city-owned property unless they have been designated as eligible (look for the window cling!). So don't take your drink to the library, parking decks, parking lots, or schools. Drinks are allowed at Durham Central Park unless it's booked for an event, at which point the decision is at the discretion of the event host.
Frontline folks working at participating businesses — as well as those that aren't — are trained in the art of hospitality, not babysitting. As we all get accustomed to this next mode of operating, patience and moderation are in, while disgruntlement and frustration are out. Other ABC laws remain in effect, obviously, so keep alcohol consumption to those over 21 and throw your disposable cup away before you enter a vehicle.
What are the boundaries of The Bullpen?

Find a detailed map of the boundaries on DDI's site. To give you a general idea, in the summertime, you can order a world-class G&T from Corpse Reviver before a nostalgia tour through downtown from the Historic Durham Athletic Park to catch a minor league baseball game at Durham Bulls Athletic Park. Have a burger at The Federal in the Brightleaf District and take a beer to-go, stop for ice cream at The Parlour in CCB Plaza, and make your way to Golden Belt for a Fruit Tart Paloma from Hi-Wire (hello, next date night!).
Get to know all the neighborhoods in The Bullpen and find our favorite attractions and hidden gems in our downtown district guide.

Cheers, Durham!