The Ultimate Downtown Durham District Guide
Estimated Read Time:
6 min
Welcome to the heart of the city — the quintessence of everything dazzling and extraordinary. Here's what to see, what to do and where to eat in downtown Durham.
While each neighborhood in Durham has its own vibe and hidden gems, downtown Durham dances to the beat of innovation, creativity and grit. Before it was lined with award-winning eateries, luxurious boutique hotels, and engaging public art, it was traversed by a generation of industrious entrepreneurs. Though you won't find working factories anymore, there are constant reminders of the once-dominant tobacco industry in the brick-laden warehouses converted into modern living spaces and chic restaurants and bars.

The iconic rainbow-colored flags are a helpful indicator that Durham celebrates its vibrant queer community and the numerous LGBTQIA-owned establishments that give the city life. Some cities may overly claim to have a diversity of cuisines with local ingredients and quality dining options. Downtown Durham, however, walks the walk by embracing global cuisine with flavors that keep people coming back for more.
Made up of seven subdistricts that total one square mile, the downtown area is easy to explore by foot, car, or wheels. It's also home to several landmarks on the National Register of Historic Places and major attractions like DPAC, Durham Performing Arts Center and the Durham Bulls. There's truly something new and exciting with every visit.


CITY CENTER
Combining the old with the new, the City Center District boasts an eclectic mix of architecture that represents a collision of Durham's past and present. You'll find skyscrapers built around historic buildings, ensuring Durham retains its street-level character. It's also where the height of music, food, and community come together in the city's heart to create memorable experiences.

Let your first impression of the City Center District be the Visitor Info Center at 212 W. Main St. Pick up a map or self-guided tour and get recommendations from knowledgeable Destination Experts. Steps away, standing majestically in the heart of CCB Plaza, is one of Durham's most iconic statues — Major the Bull. Created by local artists in memory of George Watts Hill, a World War II veteran known to his friends as "Major," the statue was given to the community as a symbol of Durham's strength.

With art galleries, hip cocktail bars, breweries, and restaurants, the compact district is an especially popular spot for students, business professionals, and foodies. Although there are plenty of stalwart, go-to restaurants like Mateo Bar de Tapas, a Spanish restaurant with Southern influences, the recent buzz is in smaller eateries with fresh cuisine like Alley Twenty Six. Unwind with coffee and brunch at Beyú Caffè or treat yourself to pastries and sweet treats from Loaf Bakery or Ninth Street Bakery. Spend an afternoon at 21c Museum Hotel, a free multivenue contemporary art museum open 24/7 or engage with stories through history at the Museum of Durham History. View the markers and public artwork on Black Wall Street, a four-block area known for the success of Black-owned businesses, and then head to the historic Beaux Arts-style Carolina Theatre, to catch a performance.

No need to travel abroad; City Center District is full of international specialties. Head to COPA for Cuban-inspired plates and tapas and craft cocktails like La Diosa Negra (The Black Goddess) steeped in history. Dashi, a Japanese ramen shop and pub, will make all your ramen dreams come true. Don't forget to ask for their pages-long menu of options for whiskey lovers. A couple of doors down is Indian Monsoon Restaurant & Bar. Named after the monsoon in India said to bring prosperity, you'll step into a welcoming atmosphere and enjoy hearty portions of coconut curry, tandoori lamb chops and samosas with a little good fortune.

City Center will easily satisfy your sweet tooth, too. Save room for artisan ice cream from The Parlour or soft serve ice cream with toppings like crystalized cookie butter rocks from Simon Says Dip This. For more sweet treats, stop by Sweets by Shayda, a woman-owned business with an array of French-inspired macarons. As the sun sets, the nightlife comes alive, so keep the party going at LGBTQIA-owned spots like Arcana Bar & Lounge and Pinhook. When it's time to wind down, The Durham Hotel has a striking mid-century modern design and unbeatable views of the city on The Roof.

For those adults looking to continue on for a nightcap — incredibly, there are 10+ world-class cocktail bars or programs within just a few blocks from each other in downtown's core. Sip on Bar Virgile's hand-shaken Ramos Gin Fizz, ground-to-glass seasonal cocktails at Kingfisher or a more classic hole-in-the-wall offering at 106 Main Street.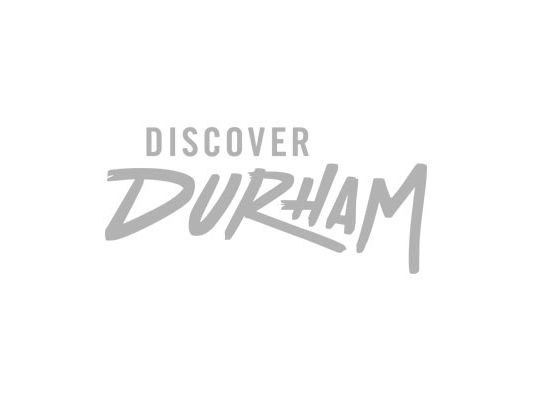 AMERICAN TOBACCO DISTRICT
About a mile south of the City Center District sits the American Tobacco District. Known as a busy industrial center that used to ship products worldwide, the former American Tobacco manufacturing plant has been transformed into the American Tobacco Historic District. Anchored by over one million square feet of multi-use space, DPAC, the Durham Bulls Athletic Park (DBAP), and the new Aloft Durham Downtown Hotel, it's a district marked by world-class entertainment, professional offices and lofts, and a bourgeoning dining scene.

Along the flowing man-made river, there are plenty of food vendors with a range of cuisines and outdoor dining. Head to Parker and Otis, a gourmet eatery and gift shop, for breakfast, lunch, and an assortment of wine and cheese. A few doors down, you'll find Boricua Soul, the brainchild of a husband-and-wife duo that serves a fusion of Caribbean and Southern flavors. With a menu boasting European-inspired coffees, crepes, and craft cocktails, Press Coffee, Crepes & Cocktails is the perfect spot to refuel before exploring the American Tobacco Trail or attending a Durham Bulls baseball game at the DBAP. If live entertainment is your thing, get tickets to a Broadway production, a high-profile concert, or a comedy event at DPAC.

In addition to restaurants and retail shops, the restored historic tobacco factory also has benches with a view of the historic Lucky Strike water tower and the flashing Old Bull sign on the oldest building in downtown Durham. In the summer months, enjoy free music shows from nationally touring acts and local bands; in the winter, bask in the glow of holiday light glory.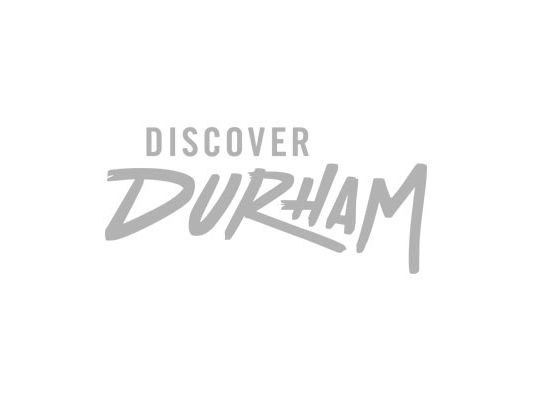 WAREHOUSE & BRIGHTLEAF DISTRICTS
Adjacent to the Brightleaf District lies a group of brick buildings that make up the Warehouse District, including the former Liggett & Myers tobacco buildings. When turn-of-the-century tobacco warehouses were adapted into retail, dining, and office spaces, the Brightleaf District became a premier destination. Stroll through the courtyard and enjoy bustling retail during the day and a lively nightlife scene after the sun goes down.

Fresh seafood. Authentic Mexican cuisine. Traditional Ethiopian fare. Cocktails and nightlife. Brightleaf District has everything your palate needs and more. Prepare your tastebuds for a taste of Ethiopia in the heart of Durham at Goorsha. Whether you select a communal plate to share or an individual portion, each dish is full of flavor. Bringing that same Ethiopian flavor into bowls, salads, and sandwiches for lunch is Goorsha's sister café, Gojo. Stop by for lunch or head to their hookah after parties later at night. Indulge in a scoop of sunshine ice cream, sun-kissed lemon and sweet-tart tangerine with radiant passion fruit from Jeni's Splendid Ice Cream, and then peruse thoughtfully curated artistic home goods at Indio and custom-made jewelry at Hamilton Hill Jewelry.

Night owls rejoice; Brightleaf District has plenty of options to match your evening mood. Open seven days a week, The Federal offers drool-worthy nachos, Buffalo chicken sandwiches and burgers – plus a late-night menu. Next door, the James Joyce Irish Pub serves up wings, fried soft pretzel bites and other pub-like sides till 2 a.m. Chill out on the patio at Devine's Restaurant & Sports Bar with bar food staples and TVs to watch your favorite sports. Just up the block, Justin's Bar and Grill has regularly scheduled live music and a menu that includes everything from hot dog combos to black bean burgers. For late-night dancing, hookah, and bottle service, head to The Living Room or Gojo.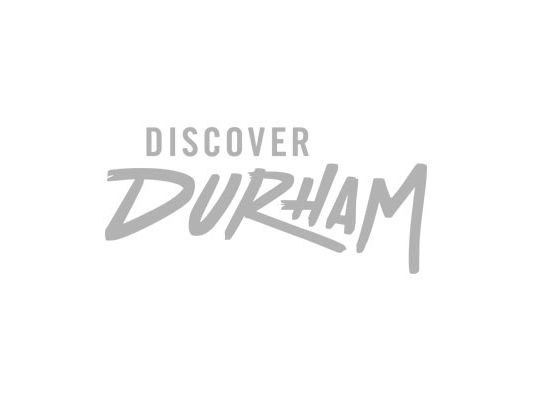 CENTRAL PARK DISTRICT
The Central Park District is, naturally, home to Durham Central Park, a community-focused, five-acre municipal park that boasts a playground, skate park, covered pavilion, art studios, public art, and a spacious grassy lawn. Every week, thousands of people shop at the farmers' market and attend events, like free summer movies on the lawn and concerts. On the northern side of the Central Park District, you'll find a hotbed of live music, bars, restaurants, and the Historic Durham Athletic Park, featured in the 1988 hit movie "Bull Durham." This district also extends to the popular intersection of Rigsbee Avenue and Geer Street, lined with local favorite watering holes and eateries.

Start your Saturday morning with a trip to the Durham Farmers' Market for fresh seasonal vegetables and locally made goods. Numerous murals dot the park and neighboring blocks, including a large magnolia mural, a mural of civil and human rights champion Pauli Murray, and a mural depicting the history of Durham using a tribal art style from India. You can relax under the shaded pavilion, explore the garden, relax on one of the benches, or picnic on the lawn.

Head over to the Durham Food Hall for some of the area's brightest culinary talent. Napoli Pizzeria and Gelatoria provides Neapolitan wood-fired pizza, small plates, salads and artisanal gelato. Fuel up on a hearty crunch wrap supreme from Ex-Voto 'Burrito Bodega,' which features a selection of mission-style burritos on 14″ flour tortillas stuffed with chicken and smoked pork. Pizza and burritos are best washed down with a cup of coffee from Liturgy Beverage Co. or a handcrafted cocktail from The Auctioneer Bar. The newest vendor is Little Barb's Bakery, serving you all your sweet tooth could desire. The same building houses the infamous Dame's Chicken and Waffles with all sorts of grub that's sure to please your palate, as well as Foster Street Coffee. Make your way to Geer Street for a smorgasbord of restaurants and bars, including Cocoa Cinnamon, a Latina-led, women-forward coffee company and King's Sandwich Shop, a walk-up burger stand that's been dishing out sandwiches, hot dogs & hand-dipped milkshakes since 1942. Pro tip: Geer Street Garden is not, in fact, a garden, but a delicious spot for local grub. The specials never miss, and no trip to Durham is complete without 'The Pile.'

Up a block, you can devour a grandma's pizza on the lovely patio at Hutchin's Garage – voted the best new restaurant in Durham in 2021 – or get your 'za to-go and enjoy with friends over a bottle of wine at the LouElla bottle shop. Fullsteam Brewery, a Durham staple and one of the first breweries in the area, serves seasonal pints and a menu with elevated pub fare behind its iconic big red door.

Get the late-night party started nearby at Motorco Music Hall and its accompanying restaurant Parts & Labor, on picnic tables and stringed lights facing the street. Boxcar Bar & Arcade is the place to be for arcade and console games, pinball machines, table tennis, and other activities to accompany its full bar and pizza menus.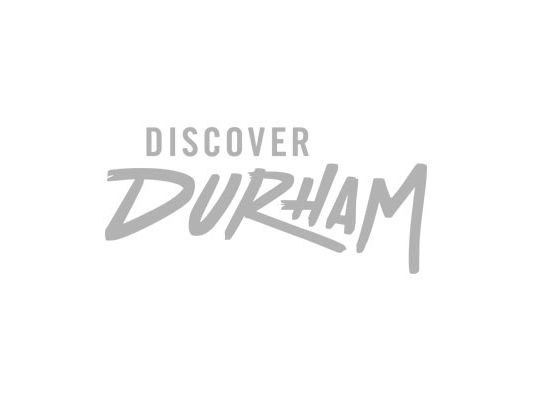 GOVERNMENT SERVICES & GOLDEN BELT DISTRICTS
The Golden Belt neighborhood borders the Government Services District, home to a growing selection of restaurants and bars and most city and county offices and buildings, including the Durham County Main Library. Although a library may not seem like a noteworthy stop, we promise you'll earn cool points with your family and friends once you visit. Explore all four floors of the $40 million, 100,000 square-foot renovation, featuring an outdoor terrace, green roof, two maker spaces, installations that encourage modern learning, and a children's area with a massive interactive light wall. Chill out with a cold beer and pizza on the expansive grassy lawn and patio at Ponysaurus Brewing before heading east to the Golden Belt District. Golden Belt Campus is a restored textile mill repurposed to house a brewery, art studios, retail, office, service businesses and offices, and residential lofts. It is the largest all-historic, LEED Gold-certified campus in the Southeast and home to working artists' studios and galleries like The Grand Gallery and Building 2 Gallery. The seven-acre campus is situated in a neighborhood of historic homes and chockfull of restaurants. You can't go hungry here. No really.

On the third Friday of every month, the space overflows with live music, artists display their art, and there's exhilarating energy that just needs to be experienced. Make the most of North Carolina's weather sitting outside with pints of beer from Hi-Wire Brewing, Neopolitan-style pizza from Cugino Forno, ice cream (with toppings, of course) from Two Roosters, and much more on the spacious Golden Belt campus.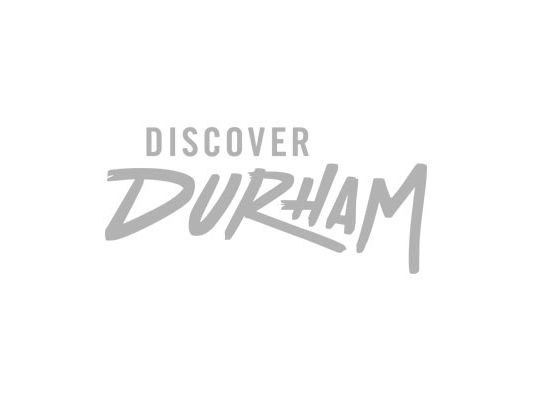 Durham's social district, "The Bullpen" stretches across all of the Downtown District, meaning you can traverse each neighborhood while enjoying an alcoholic beverage purchased to-go from a participating business. Check out our tips for how to make the most of The Bullpen before heading downtown.
Durham has a wide variety of things to do and places to see that shouldn't be overlooked. The food consistently receives praise and the quaint local businesses give it a charm that just has to be experienced. Get ready to discover something new in the heart and soul of the Bull City.