Anonymous Ancestors
Explore early-1900s Durham through the Museum of Durham History's Anonymous Ancestors exhibit in the Trust Building.
Just beyond the doors of the Visitor Info Center, you'll find a large panoramic display featuring historic photographs from 1925. Portraits of early Durhamites, photographed by Hugh Mangum, are inlaid over the sweeping scene. This is your opportunity to think about the people who walked the streets of Downtown Durham and consider their impact on the city we know today.

Read on for more information about the new display, and then stop by the Visitor Info Center to see it in person.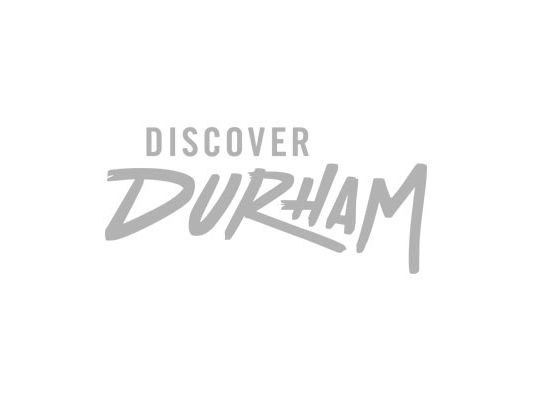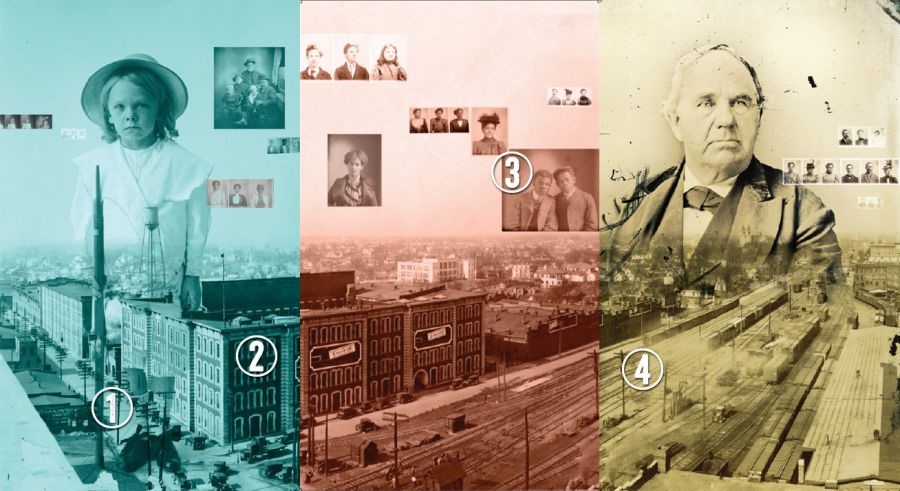 1. Blackwell street, which now runs parallel to Aloft Durham Downtown, Durham Bulls Athletic Park, and American Tobacco Campus.
2. The old American Tobacco factory is now the American Tobacco Campus, home to restaurants, offices, and lofts.
3. The portraits inlaid on the panorama were taken by Hugh Mangum, who was born on Main Street in 1877. His portraits, including the ones above, showcase Durham's diversity. Unfortunately, his subjects' names have been lost to history. Learn more about Mangum's photography.
4. Railroad tracks run west along present-day Ramseur Street.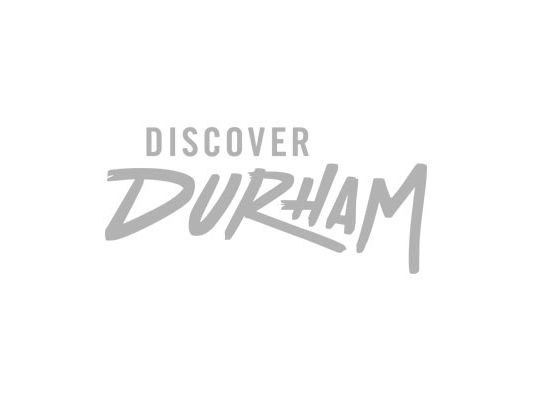 5. This panoramic photo, shot by Holladay studio for the 1926 Durham Chamber of Commerce publication Durham, North Carolina: A Center of Industry and Education, was taken from present-day Ramseur and Corcoran Streets.
6. The Trust Building, now home to the Visitor Info Center, American Underground, and software company Windsor Circle. When built in 1904, the Trust Building was the tallest office building in North Carolina.
7. The 17-story Washington Duke Hotel was recently completed at the time this photo was taken. The building was demolished in 1975, and is unrelated to the Washington Duke Inn & Golf Club that is currently located on Duke University's campus.
8. Long predating Durham, Main Street was originally a wagon road between Hillsborough and Raleigh.
9. Parrish Street, which runs parallel to Main Street, was named for tobacco entrepreneur Edward J. Parrish. In 1901, African-American entrepreneur John Merrick bought a lot on Parrish Street, which became known as a hub for black-owned businesses to the extent that in 1949, Ebony magazine published an article about Parrish Street titled, "Wall Street of Negro America."
Visit the Museum of Durham History for more information on historic Durham, and check out the Hugh Mangum Museum of Photography, located at West Point on the Eno, to learn more about Mangum's life and work. You can also view a digital collection of Mangum's work on Duke University's Hugh Mangum archive.