Durham Does Drag (all year long)
Estimated Read Time:
5 mins
The Best Places in the Bull City to Have a Dragtacular Time
Posted By Matt Lardie on Jun 13, 2023
When it comes to drag shows Durham doesn't play around. Our drag scene is strong, diverse and bursting with Bull City pride. We've got Kings, we've got Queens, and we've got shows for all ages, moods and seasons.
There are a number of regularly occurring drag shows in town, many of them helmed by one or more of the talented members of the House of Coxx. Led by Drag Mother Vivica C. Coxx, the House of Coxx is the Bull City's homegrown, social-justice-minded Drag Family. They, along with other performers from across North Carolina and beyond, regularly host shows all over Durham. There are also some spots that host one-off drag events or semi-yearly performances. With all the options to see your favorite Queens, it can get a little overwhelming, so we've put together a hand guide for where to catch the best of this gorgeous art of self-expression and inclusivity right here in Durham.
Regularly Occurring Drag Shows
The Pinhook, 117 W. Main St.
Not only is the Pinhook the home base for the House of Coxx, it's also arguably the spiritual home for drag in Durham. They host regular professional and amateur shows throughout the year as well as one-off special events, like a Good Queer Movie Night hosted by Stormie Dae and G-Clef, both of the House of Coxx.
Counting House at 21c Museum Hotel, 111 Corcoran St.
One Sunday a month you'll find the Kings and Queens of the House of Coxx strutting between the tables and booths of Counting House for Drag Brunch. Enjoy the performances between bites of the restaurants popular brunch menu, and don't forget to tip your servers AND your Queens. (Note, the next Drag Brunch will be July 16.)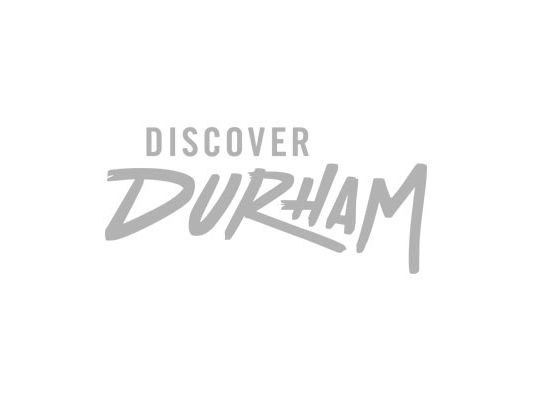 Queeny's, 321 E. Chapel Hill St.
Once a month Queeny's hosts Queer Social, an open drag show where anyone can perform. When the weather is good the amateur Kings and Queens and their fans take over the back patio, led by host and emcee Kali Fuchis. Always a fun time!
Clouds Brewing, 905 W. Main St. #22
Clouds Brewing taproom, in historic Brightleaf Square, hosts a weekly drag brunch in conjunction with the nonprofit Crepe Myrtle Festival, Inc., a Raleigh-based HIV advocacy group. Tickets are $35 and include brunch. Check out the Clouds Brewing Durham Instagram page for more information.
Semi-Regular Drag Shows
Motorco Music Hall, 723 Rigsbee Avenue
Motorco Music Hall usually hosts a few drag shows and drag trivia nights a year, usually in partnership with a local organization. Most recently, the Pauli Murray LGBTQ Bar Association put on a drag trivia night hosted by Brenda the Drag Queen. Check their event page for upcoming shows.
The Fruit, 205 S. Dillard St.
The Fruit is perhaps best known for hosting Pink Triangle!, a semi-regular queer dance party, but you can safely bet that you'll find some amazing local drag performers taking the stage a few times a year. Keep an eye on their event calendar to see what's coming up.
Accordion Club, 316 W. Geer St.
One of Durham's most beloved dive bars doesn't often host events, but every once in a while, they'll bust out the glitter for some drag shows, including one coming up on June 18. Put on by the same organizers as the Pink Triangle! Dance parties at The Fruit, the "Divas and Daddies" event at Accordion Club is free and will feature several drag performances. Follow Accordion Club's Instagram page to keep tabs on future events.
The Carolina Theatre, 309 W. Morgan Street
Historic Carolina Theatre has played host to thousands of performers over the years, including some big-name drag queens like Ru Paul's Drag Race stars Jinx Monsoon, Monet X Change, and Bob the Drag Queen. Local queens get in on the action too, like a Pride Month comedy show, "It's Funny, Girl!" hosted by the Bull City's own Vivica C. Coxx and the House of Coxx family. Bookmark the theatre's events page for future drag performances.
Durham Performing Arts Center, DPAC, 123 Vivian Street
DPAC will play host to the queens of RuPaul's Drag Race "Werq the World!" tour. The show will feature a laundry list of Drag Race alums like Asia O'Hara, Laganja Estranja and Lady Camden. This show is another in a long line of big-name drag shows that DPAC has hosted, so make sure to pay attention to DPAC's events page for future dragtacular opportunities.
Drag Yourself to a Local Brewery or Brewpub
Hi-Wire Brewing, 800 Taylor Street #9-150
Ponysaurus Brewing, 219 Hood Street
Fullsteam Brewery, 726 Rigsbee Avenue
Durty Bull Brewing Company, 206 Broadway Street #4
Bull City Ciderworks, 305 S. Roxboro St.
Bull McCabes, 427 W. Main St.
Gizmo Brew Works, 3109 Shannon Rd. #201
If you couldn't tell already, Durhamites like their craft beer just about as much as they like their drag queens. Besides Clouds Brewing, other local breweries will often host drag shows and other queer-centered events throughout the year. Hi-Wire Brewing, Ponysaurus Brewing and Fullsteam Brewery have all dressed up in drag before, so keep an eye on their websites and social media for any upcoming shows. Durty Bull Brewing will host its first-ever Drag Bingo Event on June 13, so watch their events page to stay in the know. The same goes for Bull City Ciderworks, Bull McCabes and Gizmo Brew Works – giving all of them a follow on social media is a great way to find out when your favorite queens might be popping in for a performance.
There are certainly more queer-friendly spaces and shindigs throughout the Bull City, from queer-owned downtown cocktail bar Arcana to the annual Pride festival in September and Beaver Queen Pageant each June. You might find a drag queen story hour at the library or a one-off event at a restaurant. If you want more drag in your life (and, let's be honest, who doesn't), make sure to bookmark the Discover Durham event calendar. Drag is an integral part of the fabric of our city, and we like to celebrate pride all year long.