Walkin' in the Durham Wonderland
Estimated Read Time:
7 minutes
The festive lights are glowin' and the hot cocoa is flowin'. These fun holiday events in Durham will bring you cheer!
It's the most wonderful time of the year when Durham is transformed into a magical winter wonderland of twinkling lights and holiday fun. Kids from one to 92 can savor the holiday season and experience days packed with festive shows, merry markets, twinkling light displays and maybe even a sighting of The Grinch!
1. See Holiday Light Displays
Between its wholesome snowflake street decorations to light-strewn tobacco warehouses and not one, but TWO holiday "tree" lighting events, you can bask in the glow of holiday lights in Durham without the hours-long car line. Here are the most dazzling and bright displays of the season:
When: Lighting November 29; display available through New Years
What Time: 7 p.m.
Where: American Tobacco Campus
Gather on the lawn at American Tobacco Campus for a fun, free, family-friendly holiday event for a countdown to the lighting of the historic district and iconic Lucky Strike Tower. Come early to shop and dine at ATC businesses before the big event. At 7 p.m., grab a warm drink and a light wand, and enjoy appearances by local performers and holiday heroes. Return throughout the season to gather, shop, dine and get your fix of holiday cheer!
When: December 2, 5 - 9 p.m.
Where: CCB Plaza
Gather the whole gang for Downtown Durham Holiday, a family-friendly celebration of the holiday season with live performances and the CCB tree lighting. Don't forget the Bullpen — downtown's social district — where you can enjoy a beverage from a local business while you shop and stroll!

Holiday Events at the Museum of Life and Science
Holidays in the Park: Select nights in December
Ready for lights, shimmering pathways, and train rides? Head over to the Museum of Life and Science for magical celebrations of the holiday season at kid-friendly Holidays in the Park.

AfterHours: Up Close Holiday Spirits for adults 21+: December 7, 6 - 10 p.m.

All the fun of the kid-friendly Holidays in the Park, sock skating and all, plus adult beverages at cash bars benefitting the museum's conservation and education initiatives.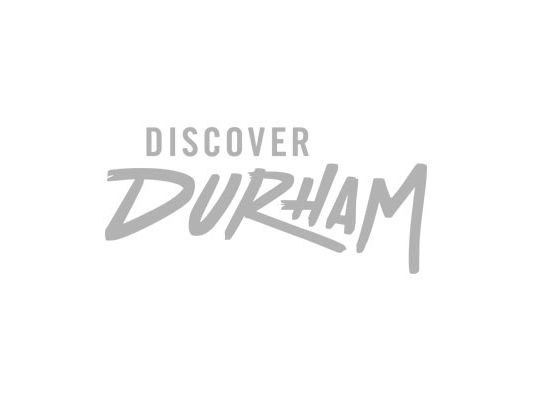 Join Mangum Family Christmas Lights for a free drive-in synchronized light show through the holidays until New Year's Eve. Get cozy in your car, tune in to 90.3 FM on your radio to hear the Christmas music, and sing along as you watch over 100,000 dancing lights.
Durham-based company Built Story updates this fun and festive driving tour of South Durham's most festive homes yearly. Pay $10 for access to all 17 stops and use the tour as many times as you'd like for 30 days. Don't miss the famous Griswold home!

2. Walk through Wool E. Bull's Winter Wonderland
Where: Durham Bulls Athletic Park
When: Select nights Nov. 22 - Dec. 31
Details & Tickets
New this year, Wool E. Bull is decking the halls of the Durham Bulls Athletic Park for a winter wonderland that does it all! Bring the whole family to enjoy over 140,000 lights, a frosty fun sledding hill, igloos in the infield, the Bulls Express train in the outfield, shop local artists at the winterland market, an arctic chill tavern and jingle bell bistro.
3. Experience a Historic Christmas Tradition
Where: Duke Homestead, 2828 Duke Homestead Rd.
When: Dec. 1 & 8, 5:30 - 9 p.m.
Jingle all the way over to the Duke Homestead for Christmas by Candlelight. Enjoy storytelling, cookies and cider, live music, singing, and a whole lot of history as costumed interpreters lead you on a candlelit tour. Tickets are available for this unique opportunity to see the Duke family home brought to life.

4. Rock Around to Festive Concerts & Events

Festive entertainment abounds this holiday season! Snap up tickets to turn any Grinch into a Who from Whoville.
Christmas at Duke Chapel
What: Handel's Messiah
When: Friday, Dec. 1, 7:30 p.m.; Saturday, Dec. 2, 3 p.m.; Sunday, Dec. 3, 4 p.m.
Where: Duke Chapel, 401 Chapel Dr.

Experience yuletide carols sung by a choir with a performance of Handel's Messiah at Duke Chapel.
What: Christmas by Candlelight
When: Wednesday, Dec. 13, 12 - 2 p.m.
Welcome the splendor of the season with Christmas music and decorations at Duke Chapel's annual Christmas by Candlelight.
Where: Durham School for Ballet & the Performing Arts, 608 N. Duke St.
When: Dec. 2, 7 p.m., Dec. 3, 3 p.m.
Embrace the art of Aerial Silks & Lyra and Contemporary Dance with original choreography in an intimate, 50-person setting.
Where: 315 E. Chapel Hill St.
Performers:
United Strings of Color, November 29, 7:30 - 8:30 p.m.
Ally J, December 13, 7:30 - 8:30 p.m.
Triangle Gay Men's Chorus, December 20, 7:30 - 8:30 p.m.
Select Wednesday evenings in December, head up to The Roof at The Durham to enjoy holiday tunes, warm drinks, and cozy vibes.
When: December 18, 4 p.m.
Where: Hayti Heritage Center, 804 Old Fayetteville Rd.
Let the NCJE's signature big band sounds and the vocal stylings of Denise Barnes get you in the holiday spirit.
5. Shop Local Gifts at Merry Markets
Find the perfect locally crafted gift for everyone on your list as Durham holiday markets make it easy to shop small!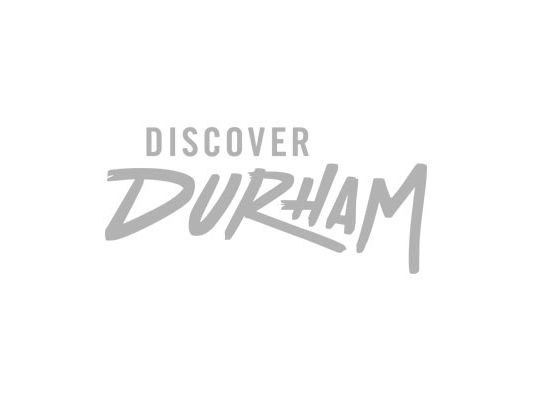 When: November 12, noon - 6 p.m.
Where: Golden Belt Campus, 800 Taylor St.
Shop fashion, ceramics, paintings, photography, textiles, jewelry and more from over 75 local artists.
When: Thursdays, November 16 & December 7, 5 - 9 p.m.
Where: American Tobacco Campus
Shop gifts from Triangle makers under the lights at American Tobacco Campus while you enjoy local entertainment, food and drinks.
When: November 18-19; Saturday 10 a.m. - 5 p.m., Sunday, 1 - 5 p.m.
Where: 120 Morris St.
The Durham Arts Council's annual weekend festival of fine arts and crafts at strollable indoor and outdoor venues throughout downtown.
When: December 2, noon - 4 p.m.
Where: Mystic Farm & Distillery, 1212 N. Mineral Springs Rd.
Head out to the farm to enjoy local spirits and shop gifts from local artists. Plus, bring your dog and have its picture made with Santa!
When: December 2, noon - 4 p.m.
Where: Soul Sanctuary, 1016 Old Oxford Road
Shop local gifts and art on the beautiful property at Soul Sanctuary. Find handmade jewelry, crafts, artwork, produce and delicious treats.
When: December 2, 4 - 7 p.m.
Where: Glass Jug Beer Lab RTP, 5410 North Carolina 55, Suite V
Shop for the beer lover on your list as you decorate tree ornaments, sip holiday beverages, have the kids' faces painted and have their pictures made with Santa!
When: December 3, noon - 4 p.m.
Where: The Durham Armory, 212 Foster St.
Over 70 local vendors converge at one of the most popular holiday markets of the season.
When: December 6, 6 - 9 p.m.
Where: The Lobby at The Durham Hotel, 315 E. Chapel Hill St.
Buy Tickets
Shop a highly curated selection of art, home goods, gifts, and more with your favorite Durham makers and businesses as you sip seasonal drinks and feel the holiday cheer in the decked out dining room of The Durham Hotel. Ticket sales benefit Y Learning from the Durham YMCA.
When: December 10, 10 a.m. - 4 p.m.
Where: Durham Central Park Pavilion
Makers from the Durham Craft Market Collective welcome other local artists for this annual holiday show, including more than 50 vendors.

6. Share Holiday Wishes and Selfies with Santa
The Black Santa Experience
When: Various dates in December
Where: Hayti Heritage Center, 804 Old Fayetteville St.
When: December 10, 1 - 4 p.m.
Where: The Roof at The Durham Hotel, 315 E. Chapel Hill St.
Book an appointment for the return of The Black Santa Experience at two locations in Durham, where a visit with a Santa of color from Santas Just Like Me and professional photography make a holiday to remember.

When: November 16 - December 24
Where: The Streets at Southpoint, 6910 Fayetteville Rd.
Experience the magic of the season at The Streets at Southpoint where you can make progress on your gift list, and have photos taken with Santa. Reserve your spot, or walk up for photos with yourself, the kids or even your pets. For a sensory-friendly Santa experience, look for the Santa Cares days on the booking calendar.
7. Gather Joyfully and at Community Events
Skip the shopping and get involved with joyful gatherings focused on family, friends, and the fruits of the season.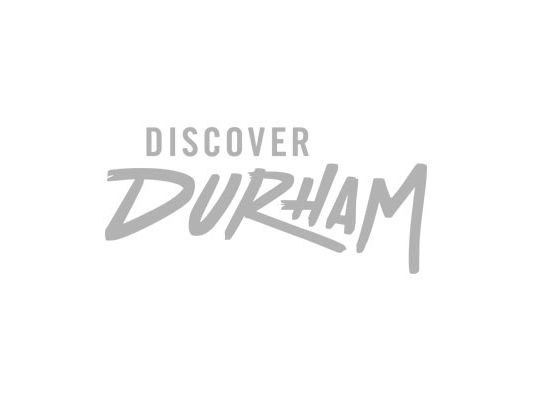 When: December 9, 10 a.m.
Where: Main Street in downtown Durham
Let the love of community warm your heart as you wave to Santa and cheer on bands, drill teams and local organizations as they show off their holiday spirit with floats and performances on Main Street downtown. Bring your own chairs and blankets.
When: Various events, December 3 - 14
Where: Levin Jewish Community Center of Durham, 1937 Cornwallis Rd.
Immerse yourself in a full lineup of celebrations at the JCC, including a full day of family fun at Hanukkah festival, Smooze and Nosh at a Musical Hanukkah Brunch, nightly candle lighting, a Hanukkah 8k, a family Hanukkah plunge, Tot Shabbat, and volunteer opportunities to give back to families in need.
When: January 1, 2 p.m.
Where: Durham Armory, 212 Foster St.
Delight in African American Dance Ensemble's 38th annual celebration of Kwanzaafest with performances celebrating the holiday season and the Triangle's diversity while promoting the traditions of African and African American dance and music to the broad community.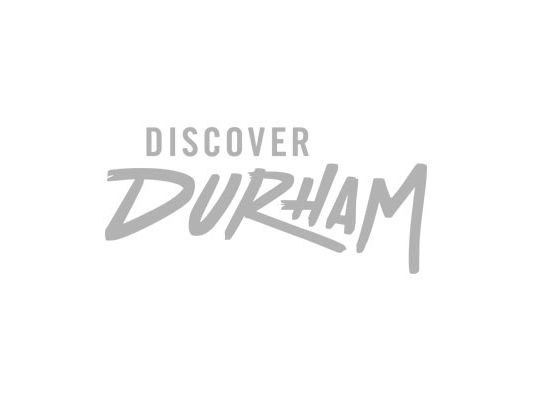 8. Countdown to Midnight at Durham New Year's Eve Parties
Check back here for more information as events are announced ...
Daytime Party: Wool E. Bull's Winter Wonderland - last day to enjoy light displays, train rides, a sledding hill and food and drink at the Jingle Bell Bistro and Arctic Chill Tavern
While you're in town, visit the Visitor Info Center at 212 W. Main St. to pick up a Craft Beverage Guide – a handy pocket guide to Durham's distilleries, breweries, cocktail bars and more.
9. Book an Overnight Stay
Cozy up at some of Durham's lodging properties and leave the cold outside.
Enjoy museum displays at 21c Museum Hotel, warm up with beverages and sweet treats at the Washington Duke Inn & Golf Club, or splash around at an indoor pool at one of several hotels near The Streets at Southpoint after holiday shopping.
Book an Igloo at The Patio at Unscripted! Celebrate the holiday season on Unscripted! Escape to their winter wonderland, complete with igloos, and enjoy views of downtown Durham, weekly entertainment and signature bites and libations.
Book a night at Aloft Durham Downtown and make the quick jaunt over to DPAC for a festive night out at a holiday show.