This 1-hour meetup will explore the adventure of climbing in a close and supportive atmosphere. Learn to focus your attention on your strengths as a woman and how to nurture those. And discover the contributions women have made to climbing! Open to all women, the class requires no previous experience.
Whether you're an experienced climber or totally new to the sport, come by for climbing and fun with an amazing community of crushers.
Women on the Wall helps women and underrepresented genders find climbing partners and build community.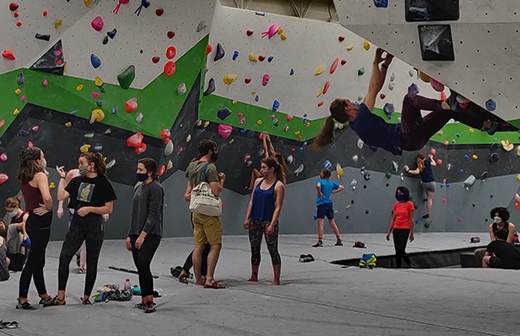 Upcoming Dates For This Event:
Tuesday, October 3
Tuesday, October 10
Tuesday, October 17
Tuesday, October 24
Tuesday, October 31
Tuesday, November 7
Tuesday, November 14
Tuesday, November 21
Tuesday, November 28
Tuesday, December 5
Tuesday, December 12
Tuesday, December 19
Tuesday, December 26
Tuesday, January 2
Tuesday, January 9
Tuesday, January 16
Tuesday, January 23
Tuesday, January 30
Tuesday, February 6
Tuesday, February 13
Tuesday, February 20
Tuesday, February 27
Tuesday, March 5
Tuesday, March 12
Tuesday, March 19
Tuesday, March 26
1010 Martin Luther King Jr Pkwy, Suite 400
Durham, North Carolina 27713

Time: 6:00 PM to 7:00 PM
Location:
Triangle Rock Club - Durham
Admission:
Cost: Free for TRC members | $15 for non-members (includes day pass and equipment). Reservations are required and payment in full is required at the time of registration.
Contact:
Tori