Wine Study: Free Wine Tasting @ Beer Study Durham
Each Wednesday from 5pm to 7pm, visit Beer Study Durham and try out some curated wine samples by the experts! Sales representatives from our wine local distributors will be there to bring wine from all over the world. Each week will feature a different region, winery, grape, style, importer, or whatever else they can think of, so come ready for a new wine experience!
Glasses of the featured wine will be available for purchase onsite and bottles will be on sale price for that day only.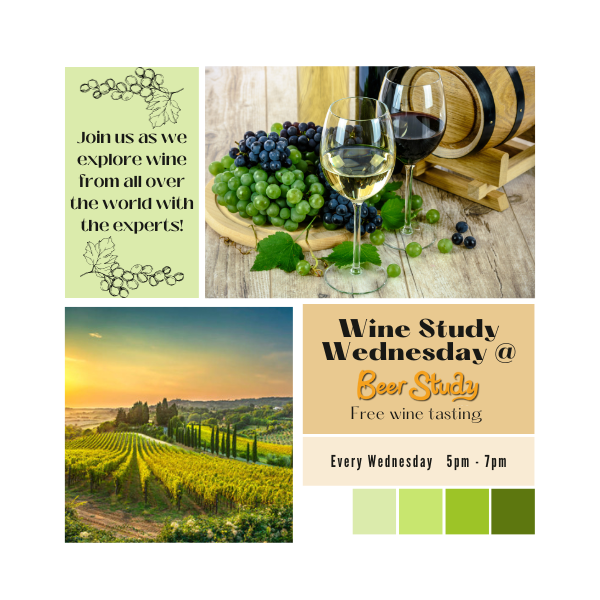 Upcoming Dates For This Event:
Wednesday, December 13
Wednesday, December 20
Wednesday, December 27
Wednesday, January 3
Wednesday, January 10
Wednesday, January 17
Wednesday, January 24
Wednesday, January 31
Wednesday, February 7
Wednesday, February 14
Wednesday, February 21
Wednesday, February 28
Wednesday, March 6
Wednesday, March 13
Wednesday, March 20
Wednesday, March 27
Wednesday, April 3
Wednesday, April 10
Wednesday, April 17
Wednesday, April 24
Wednesday, May 1
Wednesday, May 8
Wednesday, May 15
Wednesday, May 22
Wednesday, May 29
Wednesday, June 5
2501 University Dr Ste 4
Durham, North Carolina 27707

Time: 5:00 PM to 7:00 PM
Location:
Beer Study Durham
Admission:
FREE