Trivia at Beer Study Durham
Trivia with alternating hosts Nick & Nikko for categories can include current events, music ID, movies, TV, books, geography, history, science, and whatever else they come up with that week. Make sure to get there early to grab a seat because it fills up fast!
Winners get a $50 gift card, second place gets $25, and third place gets a surprise! Up to 6 players per team.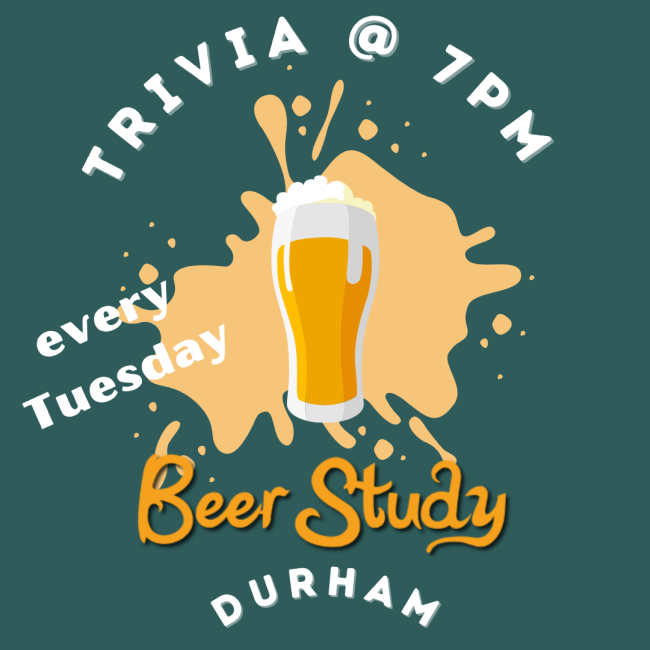 Upcoming Dates For This Event:
Tuesday, October 3
Tuesday, October 10
Tuesday, October 17
Tuesday, October 24
Tuesday, October 31
Tuesday, November 7
Tuesday, November 14
Tuesday, November 21
Tuesday, November 28
Tuesday, December 5
Tuesday, December 12
Tuesday, December 19
Tuesday, December 26
Tuesday, January 2
Tuesday, January 9
Tuesday, January 16
Tuesday, January 23
Tuesday, January 30
Tuesday, February 6
Tuesday, February 13
Tuesday, February 20
Tuesday, February 27
Tuesday, March 5
Tuesday, March 12
Tuesday, March 19
Tuesday, March 26
2501 University Dr Ste 4
Durham, North Carolina 27707

Time: 7:00 PM to 9:20 PM
Location:
Beer Study Durham (back room)
Admission:
Free