Show up and climb at TRC Durham, then head over to Hi-Wire for some brews! Bouldering begins at 6:30pm. Don't worry if it's your first time or haven't bouldered before; everyone's welcome!
At 8pm, head over to Hi-Wire Brewing at Golden Belt to grab a beer! 800 Taylor Street, Durham NC 27701.
Hi-Wire Meetup collaboration: participate in 10 Boulders and Brews Meetups and receive a free Hi-Wire/TRC t-shirt! You must go to both TRC for climbing and Hi-Wire for beers to be eligible.
Please make sure to make a climbing reservation at the reservations link to attend.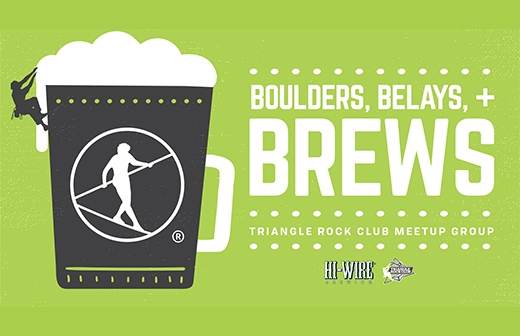 Upcoming Dates For This Event:
Thursday, December 7
Thursday, December 14
Thursday, December 21
Thursday, December 28
Thursday, January 4
Thursday, January 11
Thursday, January 18
Thursday, January 25
Thursday, February 1
Thursday, February 8
Thursday, February 15
Thursday, February 22
Thursday, February 29
Thursday, March 7
Thursday, March 14
Thursday, March 21
Thursday, March 28
Thursday, April 4
Thursday, April 11
Thursday, April 18
Thursday, April 25
Thursday, May 2
Thursday, May 9
Thursday, May 16
Thursday, May 23
Thursday, May 30
Thursday, June 6
1010 Martin Luther King Jr Pkwy, Ste 400
Durham, North Carolina 27713

Time: 6:30 PM to 8:30 PM
Location:
Triangle Rock Club - Durham
Admission:
Your first visit to the gym with the Meetup includes free admission and gear rental, and subsequent visits with the meetup are $15 and include harness rental (outside of meetups, day pass rates of $19 apply and do not include rentals).
Contact:
Tori Hoeveler