Board Game Night at Moon Dog Meadery
Join the Durham Community Board Game night meet up group for a night of board games. All are welcome!
Check out one of Moon Dog's many games or bring your own to play, Make new friends and experience a wide variety of different games.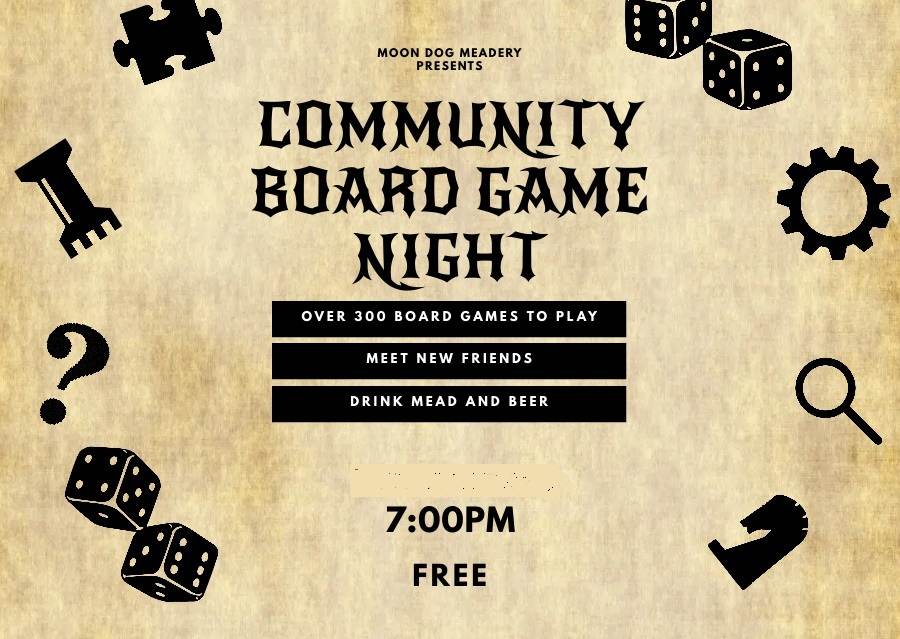 Upcoming Dates For This Event:
Thursday, September 28
Monday, October 2
Thursday, October 5
Monday, October 9
Thursday, October 12
Monday, October 16
Thursday, October 19
Monday, October 23
Thursday, October 26
Monday, October 30
Thursday, November 2
Monday, November 6
Thursday, November 9
Monday, November 13
Thursday, November 16
Monday, November 20
Thursday, November 23
Monday, November 27
Thursday, November 30
Monday, December 4
Thursday, December 7
Monday, December 11
Thursday, December 14
Monday, December 18
Thursday, December 21
Monday, December 25
Thursday, December 28
Monday, January 1
Thursday, January 4
Monday, January 8
Thursday, January 11
Monday, January 15
Thursday, January 18
Monday, January 22
Thursday, January 25
Monday, January 29
Thursday, February 1
Monday, February 5
Thursday, February 8
Monday, February 12
Thursday, February 15
Monday, February 19
Thursday, February 22
Monday, February 26
Thursday, February 29
Monday, March 4
Thursday, March 7
Monday, March 11
Thursday, March 14
Monday, March 18
Thursday, March 21
Monday, March 25
Thursday, March 28
1104 Broad St, Ste C
Durham, North Carolina 27705

Time: 7:00 PM
Location:
Moon Dog Meadery
Admission:
FREE
Contact:
Kenneth Thrower