New in Durham: Flavors Worth Finding
Estimated Read Time:
3 minutes
You know your mouth is already watering ...
Posted By Amber Watson on Jun 20, 2019
New Year, New Restaurants
It seems summer is both a time of renewal in Durham's natural settings as well as a season of rejuvenation within the local restaurant community. Over the past few months, we have seen long-awaited restaurants return, reawaken, rebrand, and expand. Of course, a lot of new eateries have entered the scene as well. Take a look at the list below to catch all the latest happenings this summer!

Photos by Amber Watson, Bites of Bull City

Dame's Chicken & Waffles of downtown Durham finally reopened this March in its new location on the ground floor of Liberty Warehouse Apartments. You will find all of your old favorites on the menu, as well as more seating to accommodate those hungry crowds.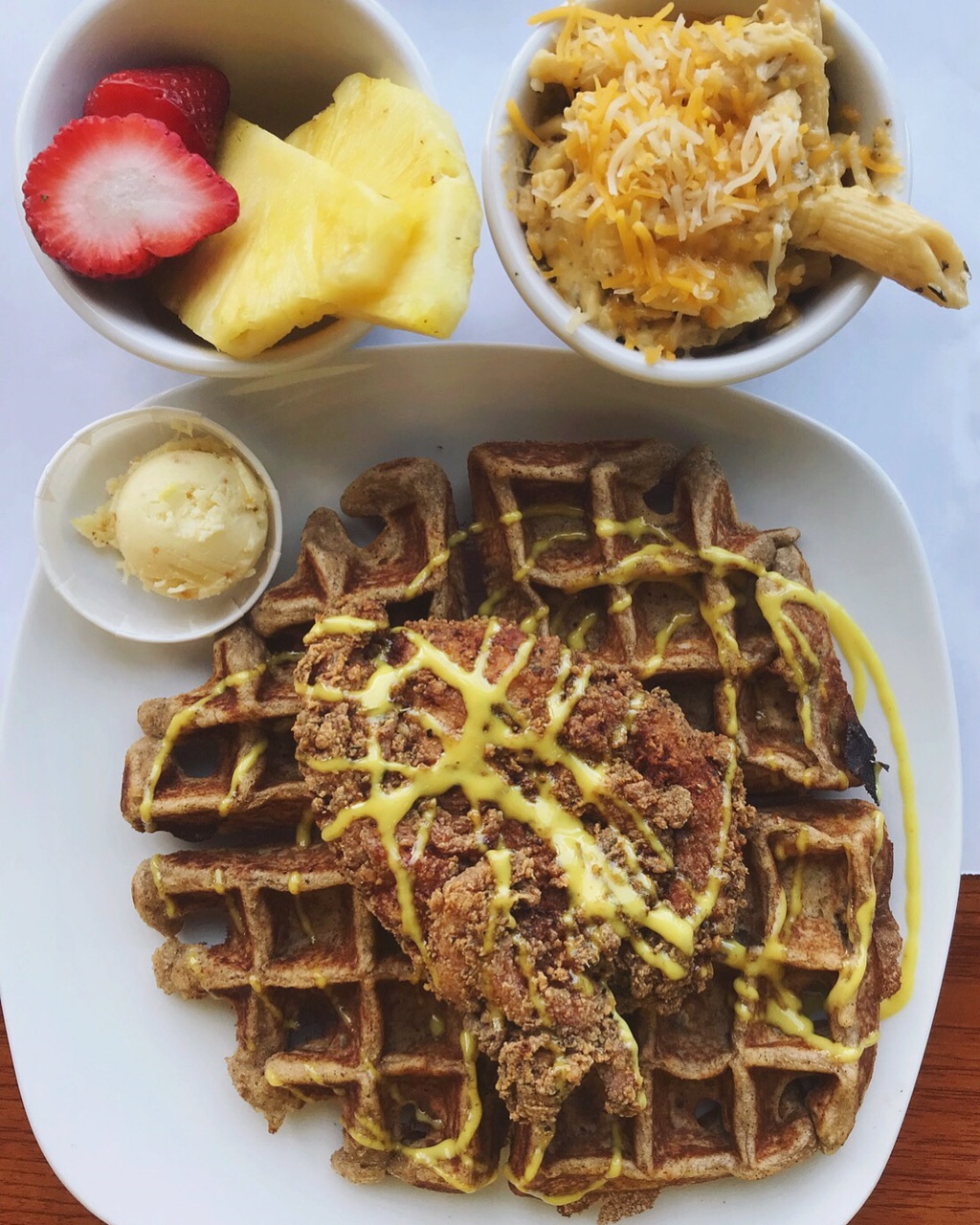 Speaking of making a comeback, Nana's restaurant, which closed this fall after 26 years, has come back to life! Chef and owner, Scott Howell, decided his famous spot still had some good years left and wasn't ready to call it quits. Nana's reopened in the same location this April, and while similar dishes are served, the restaurant now adheres to a smaller, more focused menu.
The Northern Spy is a bottle shop, bar, and restaurant that revived the former Black Twig Cider House on Erwin Road. The new space holds a connection to its roots; former Black Twig owner, Mattie Beason, now works as a sales representative for Stem Ciders, which now owns The Northern Spy. As you can imagine, there is a strong cider presence on the drink list, including creative cider cocktails, cider floats, and plenty of varieties to take home. The kitchen is also churning out fantastic bar bites that strive to utilize as many high quality, local ingredients as possible (meat from Firsthand Foods, for instance).
True Flavors Diner, which has always enjoyed steady business from its first location in South Durham, expanded and opened its second spot inside what was formerly Phoebe Lawless' Lakewood restaurant. This true Southern diner is a welcome addition to the neighborhood, which has seen the Lakewood and other concepts come and go over the past year. Bonus: brunch cocktails are served at this location!
Lime & Lemon is a new Indian Grill on 9th Street that offers dishes from both the Northern and Southern regions of India, so everyone can order what they like. The owners — six friends from Cary — were tired of restaurants keeping regional cuisine separate and serving Indian food in subpar settings. They came together to create a space that would have it all; still serving the staples everyone knows and loves (along with a delectable lunch buffet) but offering a comprehensive array of dishes, which are served in a stunning atmosphere, featuring a beautiful bar and modern interior.
If you haven't heard about Sister Liu's Kitchen yet, you're missing out. This tiny carry-out and casual outdoor dining restaurant serves home-style, handmade Chinese delights: steamed dumplings, spicy noodles, and Chinese "hamburgers" filled with pork, beef, or spicy beef. You'll find this hidden gem next to Namu.
One City Center's food tenants are steadily moving in, including B. GOOD, a mid-sized chain originating in Boston, MA, which opened here in April. B. Good caters to a more health conscious "chain eater," focusing on farm-to-table healthy eats, including salads, quinoa bowls, burgers, and chicken sandwiches.
Over at American Tobacco, the latest pop up tenants continue to shake things up. So far this season, we've enjoyed Taco Grande Mexican food truck. And Boricua Soul, a former Pop Up at American Tobacco tenant and well-known local food truck, just announced their plans to open a permanent shop in ATC's main campus this summer!
Also on Blackwell Street, just in time for baseball games and summer fun, Bull City Mini, a Durham-inspired indoor/outdoor mini golf course and bar, made its opening debut inside the former Bullpen, with lounge seating in the outdoor patio space next to the ballpark, and frosé to enjoy.
Even though construction has The Durham Food Hall at Liberty Warehouse currently on hold, you can get to know some of the vendors through various pop-up opportunities.
For instance, Liturgy Beverage (serving coffee, teas, hot chocolate, and fun seasonal drinks) serves out of Beer Durham most mornings, and Ex Voto, Mexican cocina, continues to host pop up events throughout the Triangle.
A few upcoming expansions were also announced this spring, including KoKyu Na'Mean, the bahn mi sandwich shop in South Durham, which will be opening a second location on HWY 54 in the space that was briefly known as Cure Delicatessen.
Also, the owners of Bull City Burger and Brewery and Pompieri Pizza are transforming the vacant Chick-fil-A spot on University Dr. into a taproom and restaurant serving locally sourced creations like Mexican pizza and Italian tacos. Bull City Solera and Taproom hopes to open this fall.
Food Town Documentary
Food Town: Durham, N.C. is a project from Durham-based production company, Markay Media, which also produces the Emmy, James Beard and Peabody award-winning PBS series "A Chef's Life." In case you missed it last fall, this half-hour documentary aired on PBS and goes behind the scenes in Durham's vibrant restaurant community, featuring spots like M Sushi, Pizzeria Toro, and Saltbox Seafood Joint.
Amber Watson is the creator and writer of the local Durham food news blog, Bites of Bull City. For more, follow @bitesofbullcity.com