The World's Largest Trade Show Floor
Every year, Durham, NC hosts over 4,000 conventions and meetings for businesses from around the world.
But unlike some host cities, events in Durham extend beyond the convention center or headquarter hotel. That's because all of Durham is the place where great things happen.
Just take a look at the numbers. It's not just a 35,000 square foot convention center; Durham offers 300,000 square feet of meeting space throughout the city as well as 8,000 guest rooms. Our refreshing approach to the standard business convention or meeting takes your event beyond four walls, right into the fabric of our vibrant city.
Sure, there are larger convention centers out there, but Durham has more to offer than a single cavernous space. We offer a creative, diverse community with a wide range of historical venues and commercial districts bursting with vitality. We like to say Durham has the largest convention floor in America: a whole city ready to host your event.
DOWNTOWN DURHAM
It's easy to extend your event in Downtown Durham, a compact and walkable four square mile area, with four million square feet of historic tobacco warehouses and cotton mills restored into unique shops, restaurants, loft-style apartments, artist studios, and other thriving businesses.
Learn more about Downtown Durham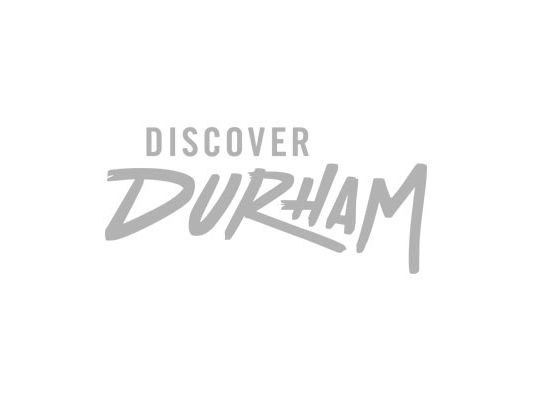 Durham's Convention Center is a great place to start your event, and the surrounding complex allows you to spread out to unique spaces within one block. It's more than just one building: host breakout sessions in the historic Carolina Theatre; set up dinner surrounded by art in the Durham Arts Council; and host exhibit booths in the Durham Armory (pictured below). With four distinct spaces offering more than 74,000 square feet, there are endless options.
Head two blocks south to find American Tobacco, just one example of Durham's unique revitalization projects. The campus includes 43 venues ranging from intimate spaces to a 10,000 capacity stadium. Impress attendees in Bay 7, a former tobacco warehouse where you are surrounded by century old brick and panoramic windows. Take things outside to the amphitheatre for entertainment beneath the Lucky Strike Water Tower (pictured below). Or go big at the Durham Bulls Athletic Park or DPAC, Durham Performing Arts Center.
Catch the free Bull City Connector to the Ninth Street District located next to Duke's East Campus. Less than two miles from Downtown Durham, the area offers several blocks of local shopping, celebrated dining, and a selection of coffee shops and bars. It's a great place for a lunch break or after hours dine around.
RESEARCH TRIANGLE PARK
Events can easily move between downtown and Research Triangle Park (RTP), both major hubs for Durham's innovation, entrepreneurialism, and startup culture. RTP is home to 170 companies, including global corporations like IBM, Cisco, and Bayer, and is located just four miles from the city center. At the park, you will find conference centers and high-tech venues surrounded by cutting-edge organizations and talent.
Utilize one of RTP's state-of-the-art conference facilities for your keynote presentation and learning sessions. Then move to The Farmery Airstream Kitchen, serving healthy dining options, for a lunch break. Or, if your event is on Friday, join the weekly Food Truck Rodeo.
After a full day's work, coordinate a trip downtown for happy hour and dinner. Just ten minutes away from RTP, attendees will have plenty of time to explore the city, fuel up, and network over cocktails.
Head to The Streets at Southpoint where you can shop, dine, and catch a movie in one place. Only 10 minutes from RTP it's full of options for attendees to spend some down time.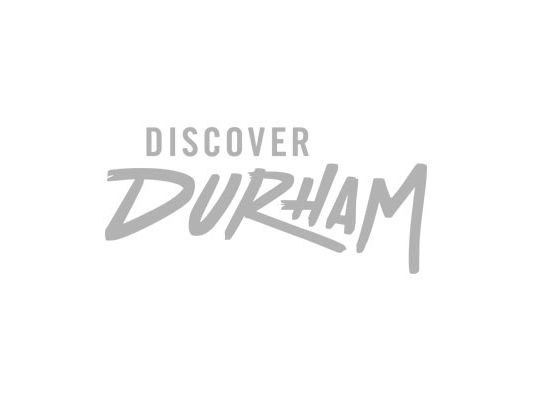 These and other alternative convention venues offer decentralized options that seamlessly weave the life of the city into any convention or meeting. Why not grab lunch from a food truck or craft restaurant, duck into a museum between presentations, or talk shop with colleagues on a stroll through our peaceful gardens and greenways?

That's the beauty of a compact city like Durham: our many convention spaces are nestled in the city's liveliest and most eclectic districts, never more than a short walk from hotels, restaurants, nightlife, and cultural activities.

But the best reason to host a convention here is Durham itself: a colorful, diverse, cutting-edge city with something for everyone. Durham is a popular destination for business, nationally and internationally, because we do things our own way. We offer businesses the chance to experience something truly different: a whole city as convention center floor.

Want to host your next convention in Durham? Contact our sales team for helpful planning services and Durham knowledge.