Durham 150 Announces Additional Grant Recipients in Advance of the Opening Celebration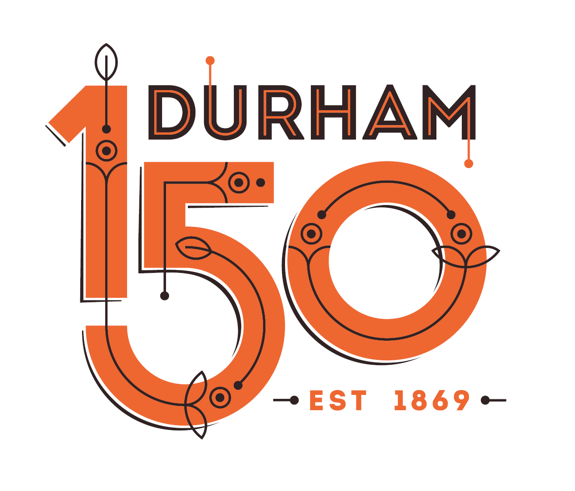 April 9, 2019 (DURHAM, N.C.) — The Durham 150 convening committee is proud to have established a grants program that supports individuals and organizations requiring assistance to bring their anniversary-related community event or project to fruition. In its second round of funding, the convening committee announced 21 grants awarded totaling $34,250. The initiatives awarded align with the mission, vision and at least one of the four themes of Durham 150. To date, the grants program has awarded more than $70,000 to support community-related programs.
"The applications we've received thus far remind us just how many diverse groups are working towards making this City a better, more equitable place every day," said Lou Rollins, the recently retired director of special projects for Duke's Office of Durham and Regional Affairs and co-chair of the Durham 150 grants committee. "Yes, Durham 150 is a year of celebration, but a lot of the work being done, and projects seeded face difficult problems head-on. It's exciting to be a part of a community where so many truly believe the rising tide should lift all boats."
The first two rounds of applications have funded 47 total projects. Nearly 40 applications were submitted before the first deadline in February, and another 28 were received prior to the March 15 deadline. To receive funding, projects or events must occur in Durham; explain how they tie to the larger Durham 150 commemoration; primarily serve the people of Durham (with the exception of regional, statewide, or national efforts that may benefit a substantial portion of people in the Durham area); align with and support at least one of the four themes; identify a clear target audience; be open to the public; and occur within the 2019 calendar year. Projects may take longer than 2019 to be completed, but they must start this year. Grant funding ranges from $250 to $2,000. To ensure projects are funded throughout the sesquicentennial year, the next application deadlines will be on May 15 and July 15. The grants committee will put an emphasis on events and projects under the Innovation & Entrepreneurship and Social Equity & Robust Democracy themes to ensure equity of funding across all themes is met.
The four themes of Durham 150, previously defined by the convening committee, are at the foundation of Durham's story and will be recognized throughout the yearlong commemoration. The themes are: history and education, innovation and entrepreneurship, social equity and robust democracy, as well as arts and leisure. The A.J. Fletcher Foundation has generously agreed to sponsor the history and education grants as well as those falling under the arts and leisure theme. The Rotary Clubs of Durham has jumped in to proudly support the social equity and democracy grants. Innovation and entrepreneurship grants are enthusiastically sponsored by Wexford Science + Technology.
In alphabetical order, the projects or events that received funding:
ADF Pop-up Performances – award-winning choreographer Mark Dendy will create choreography for 10-15 pop-up performances per week throughout the 2019 American Dance Festival season at sites like baseball games, malls, retirement homes, parks and beyond.
Bull City Roller Derby's First Home Bout – more than an athletic competition, this game will be a celebration of the inclusive spirit shared by this team and the City of Durham. BCRD will host its first bout in Durham on July 28 at the Wheels Skate Rink with halftime performances featuring other Durham-based athletic groups.
Celebrating Dance in Durham – a theatrical production featuring sixty dancers, ages 9-15, from NC Arts in Action's LEAP (Learning Excellence and Perseverance) Team and professional choreographers.
Community Leadership Dialogue – in partnership with Rotary Clubs of Durham, there will be community dialogues about social equity and robust democracy issues in Durham. Training will be conducted by Dispute Settlement for facilitators.
Costuming for "Don't Get Any Ideas, Little Lady" – A+A Dance Company will premiere "Don't Get Any Ideas, Little Lady" in June 2019 as part of Durham Independent Dance Artists' fifth season, exploring themes around femininity, misogyny, femme-phobia and gender politics. The designer will use state-of-the-art digital pattern drafting software to create costumes using a variety of materials.
Durham Dance History: A Historical Account of Dance – Empower Dance will host an evening of recognition to honor pioneers in dance that have roots in Durham. The project will include a historical timeline document of dance in Durham and a video documenting the stories of the honorees.
Durham Guide Written by Elementary Students – fourth and fifth graders at Glenn Elementary will lead a project to write a guide book to honor the City of Durham's 150th anniversary. The project will culminate in an eBook that can be distributed widely for free, as well as a public release event to celebrate the book with the contributing writers and their families.
Durham Social Mobility and Entrepreneurship Forum – a program designed to shine a light on social mobility and provide examples of people who have altered their own path. The forum will be open to the public and target necessity-driven entrepreneurs as well as mentors and coaches.
Equitable Distribution of Durham Biking Resources – The Durham Bicycle and Pedestrian Commission (BPAC) and Bike Durham (BD) are partnering to deeply connect with black and brown communities in Durham — with the explicit goal of improving equitable distribution of resources impacting Durham's community as it relates to biking and walking. The initiative will include at least four community-led, public bicycling events, and will support The Untokening Conference by the end of 2019.
Equity & Leadership in Food: DIG Free Pick Garden – this project will fund the infrastructure and student involvement to build out additional space for SEEDS "Free Pick" garden, which is available for all community members to enjoy. It will benefit the surrounding neighborhood and communities affected by food injustice.
Festival of Nations – Host-Sister Cities of Durham – the second annual Festival of Nations will put a spotlight on the international communities located within the Durham area, featuring at least 20 international groups this year.
Larger than Life Science: City of Medicine – the May "Larger than Life Science" monthly networking event at the Chesterfield Building in downtown Durham will focus on the development of Durham from a tobacco town to the City of Medicine. Invited speakers and guests include former Mayor Wib Gulley, Preservation Durham, and a few former Liggett & Myers employees to demonstrate what it was like to work in a cigarette factory.
Launch 360 – a City of Durham economic development project in partnership with Rotary Clubs of Durham that provides mentorship to minorities and women seeking to be successful entrepreneurs with a curriculum tailored by Durham Technical Community College.
Leap of Faith: A Concert for Durham Then and Now – the Durham Savoyards will present a concert which reflects music written between the 1860s and present day. With performances at Hillside High School and the Durham Arts Council, the concert will include music that reflects the changing identity of Durham through the ages with notable Durham vocalists, musicians, and the Durham Symphony Orchestra.
RED SEAS – in partnership with the Rotary Clubs of Durham, the project will build upon the foundation of the Principles of Community Engagement and celebrate the work of the Durham Housing Authority Resident Services' past, present and future, as well as providing training to community volunteers to assist with social equity issues.
SALUD – the Scholar Academy for Latinx United for Diversity will be a 12-session program for Latinx high school students to engage in Latinx-identified activities, social determinations of health, disparities and STEM with culturally responsive pedagogy in partnership with Rotary Clubs of Durham.
Swingin' at Minnie Tee's – in a semester-long course, students will develop a play based on researching real people from Durham's history to be performed at the Hayti Heritage Center on June 7. Relatives of some of the characters will be interviewed as students learn acting skills, script writing, set design, staging, videography, sound and lighting.
The Founding Fathers of Hayti – a multi-media production will celebrate Durham' Hayti community. The program will include original spoken word, excerpts from films, original monologues by the founders of NC Mutual Life Insurance, historical photographs, a musical performance, and a gallery with displays from organizations and businesses that were started or led by the "Founding Fathers" of Hayti.
The Great Durham Odyssey – a scavenger hunt, an odyssey of the mind, and a collection of interactive art installations. Teams will be led through the City of Durham to observe performance art pieces, lessons in Durham history, and creative team challenges. Participants will receive a supply pack to scavenge throughout the day and will hunt for clues hidden in locations of great importance to the City's past, present and future.
"The Worry Cabinet" – an interactive performance project by Durham-based writer Chris Vitiello, also known as the Poetry Fox. It will be a portable, interactive, public space for anyone to share individual and civic conflicts to receive a private, personalized, poetic response.
Video Dialog Inc. & The Museum of Durham History – ten years ago, the documentary film "Durham: A Self-Portrait" premiered to great community acclaim. In recognition of Durham 150, the film will be updated and feature a new "Back to the Future" epilogue that speaks to today's vital and challenging urban landscape.
The City of Durham is the presenting sponsor of the Durham 150 year of celebration, which is also supported by Discover Durham, the Museum of Durham History and the generous contributions of Durham residents, businesses, and organizations. Durham County is also a major sponsor.
All four themes will be on display at the Durham 150 Opening Celebration on April 13 at the American Tobacco Campus from 10:00 a.m.-2:00 p.m. For more information about Durham 150, the Opening Celebration and other events, visit www.Durham150.org.
About Durham 150:
Durham 150, the official commemoration of the 150th anniversary of the City of Durham's incorporation in 1869, is a yearlong celebration. The mission of Durham 150 is to recognize Durham's past, present and future with a year of events, activities, and community engagements to celebrate Durham's rich history and highly promising future. A diverse group of Durham residents have been identified to coordinate Durham 150 efforts to encourage civic engagement, widespread community participation, and the values of shared prosperity.
Subscribe to the Durham 150 e-mail lists for updates about events, opportunities, fundraising, and more. Visit Durham150.org to find a calendar of events or email contact@durham150.org for more ways to get involved. Join the #Durham150 conversation and follow @DurhamNC150 on Facebook, Twitter, and Instagram.
###
Media Contact:
Margaret Pentrack
mapentrack@discoverdurham.com
919.690.8326