DPAC and Discover Durham win NCTIA Awards
DPAC and Discover Durham Finish First at the NCTIA's Annual Tourism Achievement Awards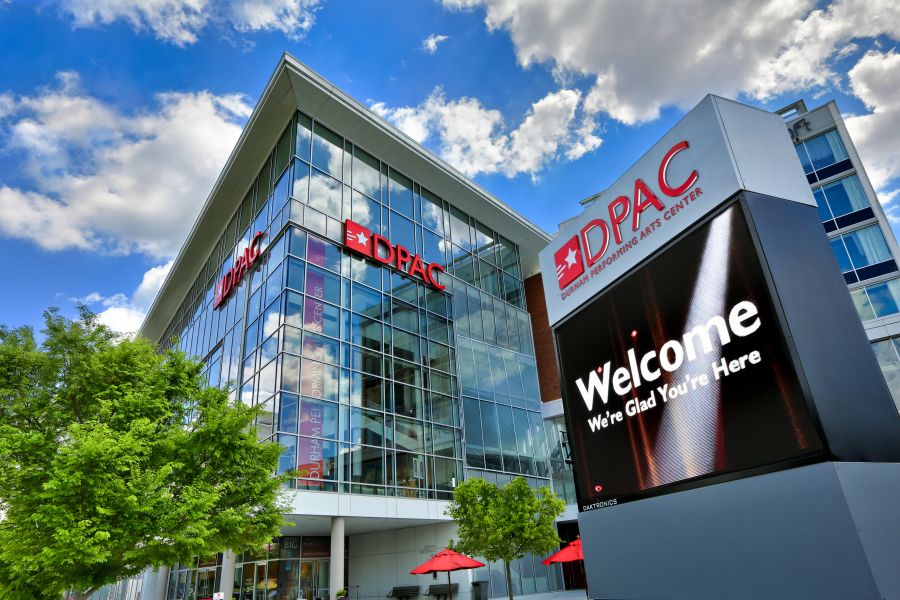 Discover Durham Won Five Awards and DPAC Named North Carolina Visitor Attraction of the Year

DURHAM, NC – Yesterday evening, the North Carolina Travel Industry Association (NCTIA) awarded Discover Durham, formerly the Durham Convention & Visitors Bureau (DCVB), five awards at the annual NC Tourism Leadership Conference. Discover Durham won four of six marketing awards categories, including 'Best of Show.' Its Chief Marketing Officer and CEO-Elect, Susan Amey, also received recognition as the top Destination Rising Star in North Carolina. Rounding out the successful night, the Durham Performing Arts Center (DPAC) was bestowed the coveted Visitor Attraction of the Year award.
"Our staff continues to innovate how we market Durham to potential and returning visitors," said Shelly Green, Discover Durham president & CEO. "To win once again, besting last year's three platinum awards and 'Best of Show,' speaks volumes about how we operate as an organization and our staff's dedication to finding new ways to engage visitors. We're also thrilled NCTIA has honored DPAC as visitor attraction of the year – it's a beautiful venue run by great people."
Discover Durham's marketing awards included:
A platinum award, NCTIA's highest honor, in the Group Visitors category for its Retail Passport. The guide was nominated for serving as a new way to market to large groups and festival attendees considering a trip to Durham and wanting to explore once they arrive.
A platinum award in the Meetings and Conventions category for its inbound Media Mission events. The events were selected for using different tactics to stand out and attract new and repeat visitors.
A gold award in the Community Stakeholders category for its annual report. It was recognized for being a special way to get the word out about Discover Durham's accomplishments last fiscal year.
The 'Best of Show' award for exemplifying the complete package of innovation, creativity, and results across all nominations.
Susan Amey won the Destination Rising Star in North Carolina individual award for making an immediate significant impact to the organization and to destination marketing in North Carolina. In her short time with the organization, she has catalyzed Discover Durham's efforts to reach new audiences, strengthened its connections in the community, and revamped internal processes – all efforts anchoring Durham's record-setting number of visitors, visitor spending, and tax revenue.
Discover Durham submitted the fruitful nomination of DPAC as Visitor Attraction of the Year, highlighting the work of DPAC in the community, stellar visitor experience, and longstanding positive impact in Durham. In its first nine and a half years, DPAC has attracted 3.9 million theatre-goers, with nearly 75 percent of attendees traveling to see a show from outside Durham. Direct spending by non-residents attending events at DPAC has topped $512 million and generated nearly $20 million in tax revenues for local governments. DPAC has risen to the top of national and regional charts while earning dozens of awards and accolades, including its most recent Theater of the Year Award by the International Entertainment Buyers Association. Pollstar Magazine has included it in the top ten venues in the US for eight years, while Billboard Magazine has listed it in the top five venues under 5,000 seats for five years. DPAC hosts more than 200 performances a year, selling out for a record-high 130 shows during its 2017—2018 season.
"I am so proud of our fantastic team. We ensure hundreds of thousands of visitors each year have a one-of-a-kind experience, whether it's the visitor's first or hundredth time attending a show," said DPAC General Manager Bob Klaus. "This award is special to us, especially as we approach our 10th anniversary year and prepare for Hamilton's blockbuster national tour. To approach our milestone year in style is energizing; I know we will carry this momentum and excel as a premier visitor attraction for the next 10 years and beyond. We're grateful to work with such a stand out team at Discover Durham to collaborate and showcase the City of Durham as such a fantastic destination."
Since the founding of DCVB in 1989, Durham has welcomed more than 150 million visitors who have spent more than $12 billion while in Durham County. For more about Discover Durham, organizational efforts this past year, and the visitor economy, read the 2017-2018 annual report.
About Discover Durham:
Discover Durham tells Durham, North Carolina's story to attract visitors and drive economic progress. As the official tourism marketing agency of Durham, it is unapologetic and purposeful about leading the strategic economic and cultural development of Durham as a visitor destination. Discover Durham markets the community to millions of people each year, helping new and returning guests get off the beaten path and experience something new. In the process, the work of Discover Durham helps fuel sales at local businesses, creates jobs, generates tax revenues, and enhances quality of life for locals. For more information about Durham, visit www.discoverdurham.com, or follow on Facebook, Twitter, and Instagram.
About DPAC
Since its opening in 2008, DPAC (Durham Performing Arts Center) has become the center for live entertainment in North Carolina. Recognized for its contemporary design, DPAC features 2,700 seats, intimate sightlines and state-of-the-art sound and video. Listed annually among the top five in Pollstar magazine's worldwide theater attendance rankings, DPAC is the #2 ranked theater in the U.S.
With a mission of presenting one-of-a-kind live entertainment events, DPAC truly has "something for everyone," hosting more than 200 performances a year, including spectacular touring Broadway productions, high-profile concert and comedy events, family shows and the heralded American Dance Festival. Owned by the City of Durham and operated under the direction of Nederlander and Professional Facilities Management (PFM), since 2011 DPAC has been listed as the #1 performing arts organization in the region by the Triangle Business Journal. For more information please go to www.DPACnc.com.
###
DPAC Press Contact:
Jennie Lanning
jlanning@dpacnc.com
919-281-0815
Discover Durham Press Contact:
Shelly Green
shelly@discoverdurham.com
919-680-8300