2019 30 Under 30
Discover Durham's Najauna White Named one of 30 Future Leaders of Destination Marketing and Management Industry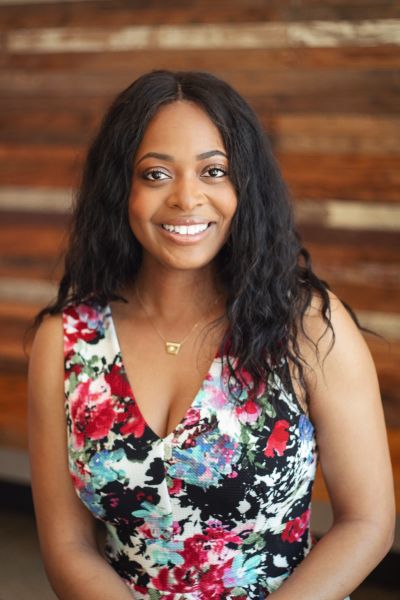 Durham, NC (April 25, 2019) – Discover Durham is delighted to announce that Najauna White has been named one of Destinations International's 30 Under 30 recipients.
The 30 individuals, 30 years of age and under, will have the opportunity to engage in professional development opportunities throughout 2019 and beyond. The honorees originate from a variety of destination organizations of all sizes and countries.
"The 30 Under 30 program remains critical to our organization's vision and mission," said Don Welsh, President and CEO of Destinations International. "The future of the travel and tourism industry remains dependent on today's young professionals and the Foundation continually invests in the leaders of tomorrow through professional development and mentorship opportunities. We look forward to connecting with the 30 future leaders at this year's Annual Convention, throughout 2019 and their careers."
White currently serves as National Sales Manager with Discover Durham, formally Durham Convention & Visitors Bureau (DCVB). White settled in Durham after attending Howard University in Washington D.C. Her love for the community merges with her professional experience in destination sales, meeting and convention sales, strategic marketing, customer service, campaign and event planning, and hospitality. She serves on Destination International's Diversity and Inclusion Task Force in addition to serving on the board of the Carolinas Chapter of Meeting Professionals International. Najauna is also a member of FUEL (Fostering Unity among Emerging Leaders), a committee of the Association Executives of North Carolina.
"We are very excited that our very own Najauna White has been honored to participate in Destination International's 2019 30 Under 30 program," said Shelly Green, Discover Durham President & CEO. "This is the second time a Discover Durham staff member has been selected since the program's inception, and White was the perfect candidate to represent our team at this year's St Louis convention," Green said.
Program Benefits:
Honorees will receive complimentary registration and three nights' hotel accommodations during Destinations International's 2019 Annual Convention.
Recognition on stage and throughout the 2019 Annual Convention in St. Louis, MO, July 23-25, 2019.
Complimentary registration for Fundamentals in Destination Marketing, the first course of Destinations International's PDM program.
Year-round professional development focus, including regular interactive webinars and an online community to share ideas.
Opportunity to apply to attend the Association of Australian Convention Bureau's Annual Conference.
"The Destinations International Foundation is proud to support the 30 Under 30 Program," said Jason Fulvi, Board Chair of the Destinations International Foundation and President and CEO of Visit Kansas City. "This program helps further develop our industry's leaders of tomorrow. We look forward to having them join us at the Annual Convention and continuing to grow throughout the year."
Now in its ninth year, the 30 Under 30 program is supported by founding program partner, SearchWide Global and sponsored by IMEX Group, MMGY Global and Northstar Meetings Group.
"Not only does the program bring incredible value to our industry, but it brings unlimited opportunity to the recipients," said Mike Gamble, President and CEO of SearchWide Global. "By shaping future industry leaders, we can build an even better future for destination marketing."
For more information about the 30 Under 30 program or Destinations International, visit www.destinationsinternational.org.
About Discover Durham:
Discover Durham tells Durham, North Carolina's story to attract visitors and drive economic progress. As the official tourism marketing agency of Durham, it is unapologetic and purposeful about leading the strategic economic and cultural development of Durham as a visitor destination. Discover Durham markets the community to millions of people each year, helping new and returning guests get off the beaten path and experience something new. In the process, the work of Discover Durham helps fuel sales at local businesses, creates jobs, generates tax revenues, and enhances quality of life for locals. For more information about Durham, visit www.discoverdurham.com, or follow on Facebook, Twitter, and Instagram.
###
Media Contact:
Margaret Pentrack
mapentrack@discoverdurham.com
919.690.8326