Join in every Friday from 8-11 pm for a night of pure vinyl bliss at "Stereo Reveries."
Dive into the nostalgia as talented DJs spin the classics, deep cuts, and favorite vinyl tracks that will make your night a musical journey.
Grab a seat, and let the enchanting sound of vinyl records transport you back to the golden age of music. Stereo Reveries promises to be an unforgettable evening of sonic delights.
Mark your calendar, and get ready to lose yourself in the hypnotic rhythms of "Stereo Reveries" every Friday.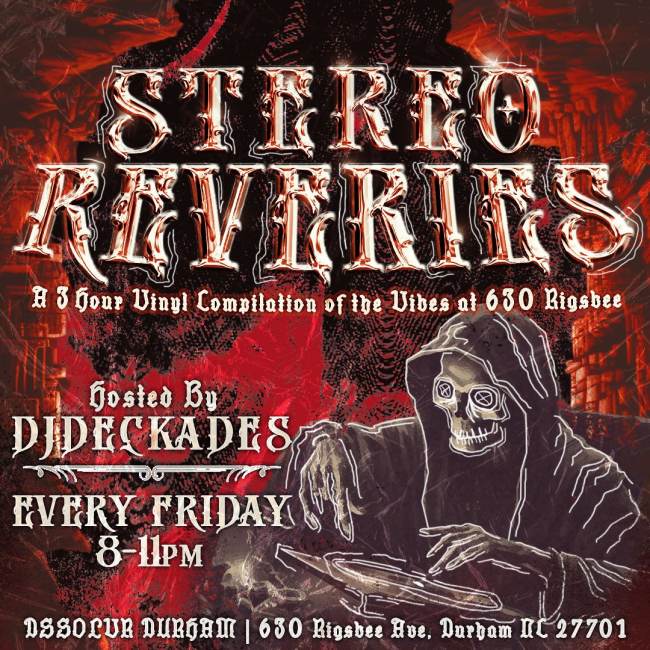 Upcoming Dates For This Event:
Friday, December 15
Friday, December 22
Friday, December 29
Friday, January 5
Friday, January 12
Friday, January 19
Friday, January 26
Friday, February 2
Friday, February 9
Friday, February 16
Friday, February 23
Friday, March 1
Friday, March 8
Friday, March 15
Friday, March 22
Friday, March 29
Friday, April 5
Friday, April 12
Friday, April 19
Friday, April 26
Friday, May 3
Friday, May 10
Friday, May 17
Friday, May 24
Friday, May 31
Friday, June 7
630 Rigsbee Ave
Durham, North Carolina 27701

Time: 8:00 PM to 11:00 PM
Location:
DSSOLVR Durham
Admission:
FREE admission