Learn to Weave Workshop: Woven Jack Pumpkins
Interested in weaving but don't know where to start? Learn about fiber, knots and weaving on a loom made from household materials. Rigid heddle looms have been used for centuries to introduce weaving concepts and loom operation. In each workshop, learn appropriate weaving yarns and how to set up a loom. Then explore the interplay of color and texture by weaving in colorful yarn scraps, natural fibers, and unusual materials! Each workshop is devoted to transforming your weaving sample into the featured small craft. All yarn, tools, and materials provided. Jan will introduce the similarities of weaving on her traditional 4-harness floor loom, answer your weaving questions, and present other project ideas to convert your yarn stash into gifts and other small usable objects of joy!
Jan French, Instructor
Woven Jack Pumpkins-Learn how to weave rectangles and cording while you make a 4" adorable soft pumpkin. Glowing possibilities! A $5 materials fee is due to instructor.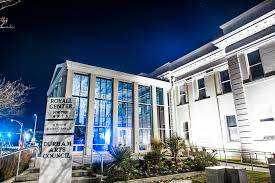 120 Morris St
Durham, North Carolina 27701

Time: 1:30 PM to 4:30 PM
Location:
Durham Arts Council
Admission:
$27(plus material fee)
Contact:
Lauren Tannenbaum