Take a guided tour of West Point on the Eno's historic buildings and grounds. One of the City's oldest parks, the park's history dates back to the 1970s. Located along the Eno River, the park features a reconstructed late 18th-century working grist mill, the historic McCown-Mangum House dating to the mid-1800s, and the Hugh Mangum Museum of Photography, which offers permanent displays of photography and equipment of early 20th-century local photographers, plus contemporary exhibits featured on a rotating basis. There is a ton of history to explore and stories to discover. The park is of importance to Native Americans, specifically the Eno Indigenous group and also early European settlers. You will hear stories about the people who lived, worked, and played here.

Participants are encouraged to bring water and wear sturdy hiking shoes as some hikes can cover up to 3 miles.
This tour leaves on the hour, at 10 a.m., 11 a.m., 12 p.m., and 1 p.m., and is open to all ages at no cost.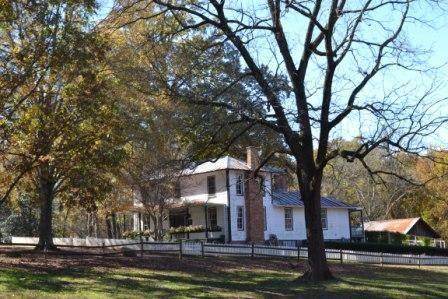 Upcoming Dates For This Event:
Saturday, September 30
Sunday, October 1
Saturday, October 7
Sunday, October 8
Saturday, October 14
Sunday, October 15
Saturday, October 21
Sunday, October 22
Saturday, October 28
Saturday, November 4
Sunday, November 5
Saturday, November 11
Sunday, November 12
Saturday, November 18
Sunday, November 19
Saturday, November 25
Sunday, November 26
Saturday, December 2
Sunday, December 3
Saturday, December 9
Sunday, December 10
Saturday, December 16
Sunday, December 17
5101 N Roxboro St
Durham , North Carolina 27704

Location:
West Point on the Eno Park
Admission:
FREE, but preregistration required