Shine debuts at #1 on Billboard Blues Chart!
"With a shoot-from-the-hip Memphis attitude, and a STAX-busting explosion of modern blues vision, GTBB represents a welcome changing of the guard." -Living Blues Magazine
GTBB's new album Shine debuted at #1 on the Billboard Blues Chart. Recently headlining the blues stage at The Montreal Jazz Festival and appearing at The Lucerne Blues Festival in Switzerland, Beale Street's latest success story, 5-time Blues Blast Music Award Nominee and International Blues Challenge Runner-up is Ghost Town Blues Band. Not your grandpa's blues band, their live show has been captivating audiences in the U.S., Canada and Europe with their "second-line horn entrance," cigar box guitars and electric push brooms to Allman Brothers style jams and even a hip-hop trombone player. The band's stage show and energy is unparalleled and has been called the best new live blues show in the world.
Horns, harmonies and homegrown instruments combined with an energetic and roots rich festival set makes Ghost Town Blues Band one of the "must see live bands on the festival scene today." Both Andrew McNeill behind the drums and Matt Karner on the bass guitar are a punishing rhythm section behind multi-instrumentalist/frontman Matt Isbell with raunchy cigar box guitar licks and raspy "Dr. John-like, whiskey and gravel-soaked vocals." With the addition of Trombonist Suavo Jones, Cedric Taylor on B3 and Taylor Orr on lead guitar, the grooves go from fresh to funky as the band gains more notoriety in the blues festival and jam circuit. Ghost Town Blues Band has performed all across US and Canada at over 100+ festivals and will perform more than a half-dozen international tours in Canada and Europe in 2019.
"GTBB shows what can happen when the past is distilled through young sensibilities, voices, and instruments. This is 21st century blues at its best." -Living Blues Magazine
No reservations, all seating is first come first served. Arrive after 8 pm for the 9:15 pm show, allowing the venue to turn the house. Due to staffing issues waits and food times may be longer than usual.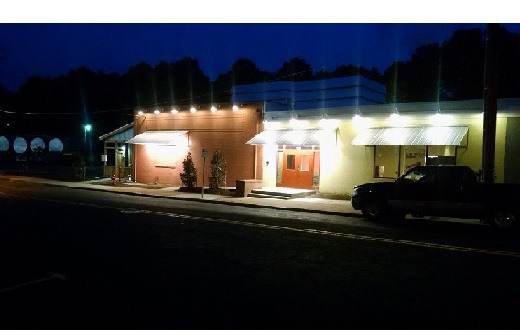 709 Washington St
Durham, North Carolina 27701

Time: 7:30 PM
Location:
The Blue Note Grill
Admission:
$15