Brave Buckets: Durham's Secret Game
Estimated Read Time:
3 minutes
Learn about the first interracial basketball game in the Jim Crow South in this WUNC feature about North Carolina Central University's John McLendon.
Posted By Discover Durham Staff on Feb 25, 2019
The following feature is by Anita Rao, Frank Stasio, and Jess Clark. It was published by WUNC on April 23, 2015. Head to their website to listen to the radio interview Stasio did about this story for WUNC's The State of Things.
Over seven decades of breaking barriers in basketball
On a Sunday morning in March 1944, most of Durham, North Carolina was in church. That's the way basketball coach John McLendon wanted it when his all-black college team from North Carolina Central University (then the North Carolina College for Negroes) faced off against an all-white team from Duke University's medical school.
The game would be the first interracial college basketball game in the Jim Crow South, and it had to be kept a secret. McLendon even locked the doors behind the teams after they entered the gymnasium.
The story of McLendon and this historic game is the subject of historian Scott Ellsworth's book, "The Secret Game: A Basketball Story in Black and White" (Little, Brown and Company/ 2015). Ellsworth met Coach McLendon while researching for a book about the 1957 NCAA Final Four. Ellsworth told Frank Stasio of WUNC's The State of Things that he was interviewing McLendon in his Ohio home when the elderly man pulled out a list of racial firsts he had accomplished, including first black basketball coach in the professional leagues, first assistant U.S. Olympic basketball coach and first coach to win a desegregated tournament at the National Association of Intercollegiate Athletics (NAIA).
"McLendon is the most important person in basketball that no one has ever heard of," Ellsworth said. When McLendon told Ellsworth about the "secret game," Ellsworth knew that he had to change his research focus. He set off on a decades-long journey to document the history of basketball, and his research reveals that McLendon's coaching revolutionized the game.
"John McLendon is this genius," Ellsworth said. "College basketball teams in World War II would maybe score 50 points a game; his team is scoring 60, 70, 80. They beat St. Augustine's 119-26."
McLendon revved up the fast break, used a full-court press before anyone else and had his players run as part of their training before it was common practice, Ellsworth said. As a result, the North Carolina College Eagles became the highest scoring college basketball team in the world.
"He [McLendon] says, 'I'm going to create a whole new, super-revved-up kind of basketball... and we're going to play basketball like nobody's ever seen before.' And they did," Ellsworth said.
But because they were black, they couldn't play in many college tournaments, such as the NCAA tournament. That meant most of America didn't know about what McLendon was doing on the court, Ellsworth said.
Players from both teams organized the "secret game" when they met at secret interracial prayer meetings at the Durham YMCA. Ellsworth said people who crossed the color lines had to be discreet in the 1940s to avoid becoming targets of violence. That same year in Durham, a black soldier was murdered just for refusing to move to the back of the bus, he said.
The Eagles won the game, but the significance of the game went beyond the final score.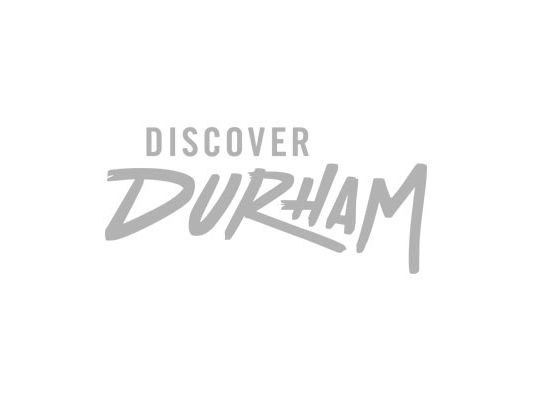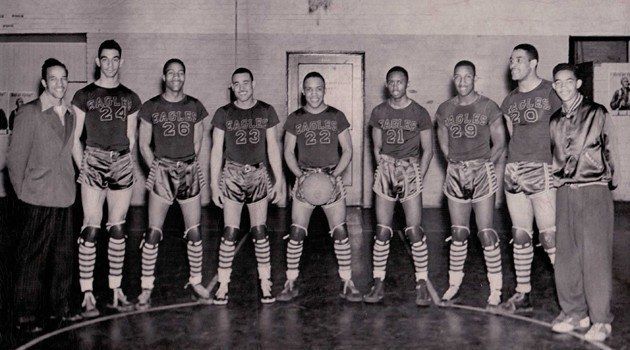 "The word got out that there was a new kind of basketball being played at North Carolina College," Ellsworth said. "All that summer of 1944, carloads of white basketball players for the Tar Heels from UNC drove over from Chapel Hill to try to get a pick-up game with McLendon's black players, and they were blown away by what they saw."
Ellsworth said those white players then took McLendon's game with them when they returned to their hometowns of Boston, Philadelphia and New York. The secret game, Ellsworth concluded, was therefore an important moment in the evolution of basketball, and also in the evolution of civil rights.
"It was a part of this generation...that really started to lay the groundwork that the civil rights movement was going to thrive on," Ellsworth said.
Read this New York Times article about the secret game by Scott Hillworth in its entirety.
Paving the way to present day
Incredibly, one game in 1944 completely changed the foundation of basketball in the country, especially in Durham. From elementary hoops to the unforgettable plays we see today in the National Basketball Association, we are witness to history in motion.
The history of basketball in Durham also extends to close geographic neighbors. We'd be remiss if we didn't address the Duke/UNC Tobacco Road nemeses; the two universities sit just eight miles apart, and have been playing each other for almost 100 years. The two schools have combined for 38 of the 65 ACC tournament titles and 50 regular season crowns, made it to 36 Final Fours and claimed 11 NCAA national championships.
Both schools have supported and cultivated renowned talent. Michael Jordan (a member of the NCAA championship team in 1982) and other Carolina greats like James Worthy, Vince Carter, Rasheed Wallace, and Rick Fox donned the lighter color blue. But Kyrie Irving, J.J. Redick, Jay Bilas, Shane Battier, Bobby Hurley, Grant Hill, and Christian Laettner played for the Blue Devils with pride. The list continues, with extraordinary freshman talent adorning Duke's roster this season, and Carolina contending with remarkable players to call their own.
Want to relive history and celebrate talent in the here and now? Visit the Duke Basketball Museum and Sports Hall of Fame, or catch both teams in action this season during this year's epic March madness matchups at bars and restaurants fit for the best spectator vibes in Durham.